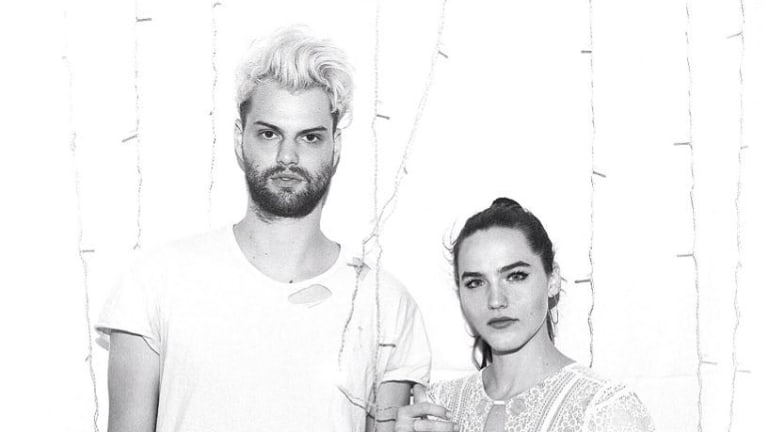 SOFI TUKKER Drop New Single "Purple Hat" Before EP Release
SOFI TUKKER return with another unbelievably catchy tune "Purple Hat."
SOFI TUKKER are gearing up for the release of their upcoming EP DANCING ON THE PEOPLE. In honor of this, the duo released the addicting new single "Purple Hat." 
The vocals continuously repeat the name of the EP, turning "Purple Hat" into a pseudo-title track of sorts. Subtle guitar and drums gently guide the song along as the bassy, repetitious vocals are creatively fashioned into a bass line for the track before some deep synths kick in.
SOFI TUKKER (real names Sophie Hawley-Weld and Tucker Halpern) spoke on how their specially curated Animal Talk parties inspired the sound of their latest track. In their own words:
"We wrote 'Purple Hat' the day after our first Animal Talk party. We started throwing these parties to bring back the wild and inclusive dancing vibe to the nightclub experience. Tuck was literally wearing a purple hat and a cheetah print shirt, people were climbing on top of people, it was over sold out and sweaty, our favourite people were packed in the booth, everyone was loose and feeling themselves. It was wild. Every Animal Talk party since then has been like that and we wanted to capture that raw feeling in a song. If there was a song that included everything we are about, this would be the one."
"Purple Hat" by SOFI TUKKER is out now. You can download or stream the new song here and pre-save their upcoming EP DANCING ON THE PEOPLE here.
FOLLOW SOFI TUKKER:
Facebook: facebook.com/sofitukker
Twitter: twitter.com/sofitukker
Instagram: instagram.com/sofitukker
SoundCloud: soundcloud.com/sofitukker