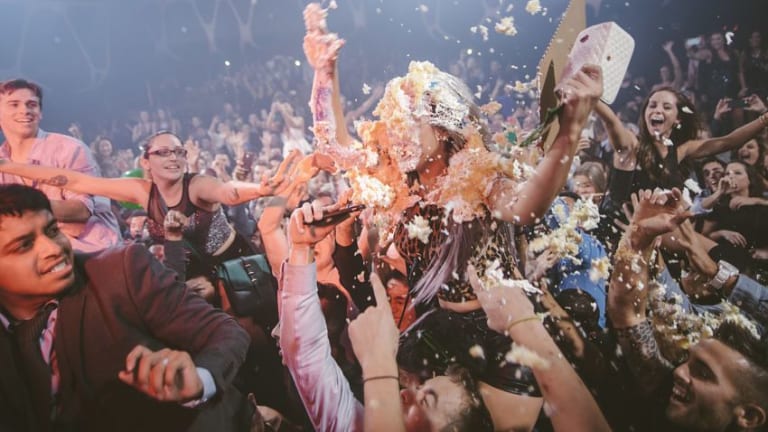 Steve Aoki's 7 Most Ridiculous Cakings
And a new track with Lil Yachty & AJR!
Steve Aoki, the cake-tossing DJ, has just partnered up with Lil Yachty and pop trio AJR for the track "Pretender"! This house anthem blends together pop and hip-hop in a track that's perfect for summer. 
Ryan from AJR said, 
"We tried to write Pretender as this weird anthem for the insecure. My own social anxiety is something we've wanted to write about for a while, and it seemed like a very cool contrast to pair it with Steve Aoki's EDM sound and Lil Yachty's Hip-Hop sound," 
You can check out the new track here. Give it a listen while you check out Steve Aoki's best cakings! 
1. VIN DIESEL LOS ANGELES 2018
2. VELD MUSIC FESTIVAL 2013
3. SUNSET MUSIC FESTIVAL 2012
4. STEVE AOKI BIRTHDAY PARTY 2016
5. TOMORROWLAND 2014
6. STEVE CAKING HIMSELF
7. ULTRA MUSIC FESTIVAL 2018
Which one is your favorite?!