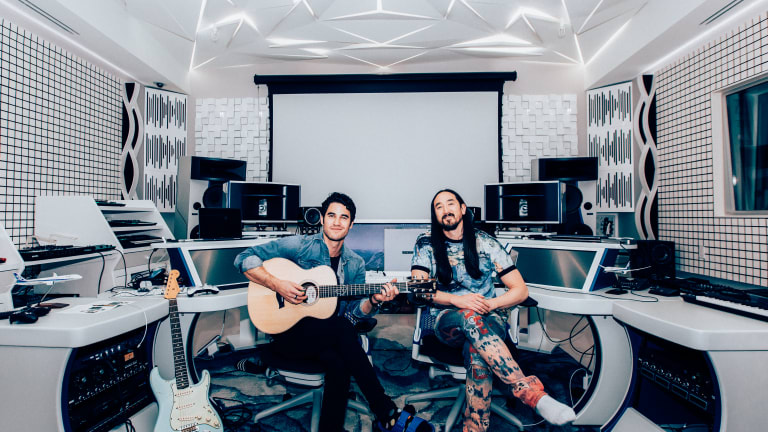 Steve Aoki and Darren Criss Channel Beavis & Butthead in Video for "Crash Into Me" Cover
Steve Aoki and Darren Criss get animated in their "Crash Into Me" music video.
Steve Aoki and Darren Criss provide Beavis and Butthead-style commentary on their own music video. The two recently teamed up to cover Dave Matthews Band's "Crash Into Me." Now, their cover is the subject of a multi-layered visual accompaniment. 
This summer Steve Aoki and Darren Criss wound up in each other's company. Despite coming from two very different backgrounds professionally, the two bonded over the classics. As an actor, songwriter and singer, Criss had a triple-threat background, but his project with Aoki would mark his foray into the electronic space.
Explaining how the cover came to be, Aoki commented, "Darren and I wanted to do something different and surprising out of the gate with our collaboration. We bonded over classics and this surely was one of them."
The joint cover was immediately well received, and has prompted Aoki and Criss to expand upon what they started. That now includes a music video and an additional festival-style remix from Aoki aptly titled "Settle Down Steavis Aoki Remix."
Watch an animated Steve Aoki and Darren Criss commentate on their own video as "Steavis and Butthead" here.
FOLLOW STEVE AOKI:
Website: steveaoki.com
Facebook: facebook.com/steveaoki
Instagram: instagram.com/steveaoki
Twitter: twitter.com/steveaoki
Soundcloud: soundcloud.com/steveaoki