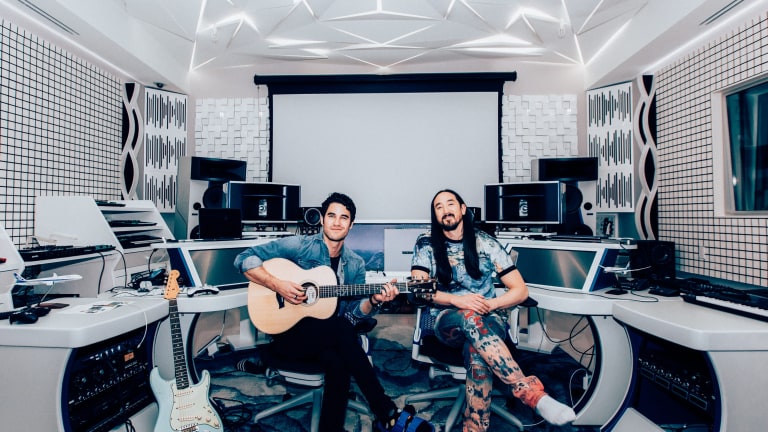 Steve Aoki and Darren Criss Cover Dave Matthews Band's "Crash Into Me"
The two bonded over their love of classics to create this unexpected cover.
It's been 23 years since the Dave Matthews Band released one their most well-known tracks, "Crash Into Me." Fast forward to 2019 and two unlikely collaborators - cake throwing EDM titan Steve Aoki and Darren Criss of American Crime Story: The Assassination of Gianni Versace - have created a dance-pop crossover cover. It's the type of track we didn't know we needed but are nonetheless happy they delivered. 
The famous '90s single is turned modern with Criss' light pop vocals. The whole production is much more upbeat and uplifting. It's going to be one of those tracks that will have fans belting out every word across the festival circuit. 
"Darren and I wanted to do something different and surprising out of the gate with our collaboration," said Aoki. "We bonded over classics and this surely was one of them."
"Steve Aoki and I both share a love for reinvigorating familiar songs by fusing them with seemingly unconnected musical styles. And for as long as I'd had this wild idea of transforming Dave Matthews seminal ballad 'Crash Into Me' into a dance track, I always thought Steve would be the perfect person to bring it to life," said Criss. "So when we finally got the opportunity to meet, I was beyond psyched that Steve was as into the concept as I was, and we began working on it almost immediately. The total unexpectedness of it, the unapologetic fun of it, and of course the deep love of Dave Matthews we both had made creating this version together was an absolute blast."
Aoki is coming off another recent collaboration with MAKJ and Showtek titled "Rave" featuring Kris Kiss. "Crash Into Me" is on the opposite end of the EDM spectrum from "Rave" but is another indication on Aoki's longevity in the industry. The man is versatile. 
Fans of Steve Aoki can catch him on tour at upcoming festivals such as Barcelona Beach Festival, Electric Nation, and Tomorrowland. With a recent switch to the schedule, he will perform Weekend one Tomorrowland during the 15 Years of Iconic Anthems featuring 3 Are Legend (Dimitri Vegas & Like Mike and Steve Aoki). He will also perform in Las Vegas all summer for his Hakassan Nightclub residency. 
H/T: Your EDM
FOLLOW STEVE AOKI:
Facebook: facebook.com/steveaoki
Twitter: twitter.com/steveaoki
Instagram: instagram.com/steveaoki
SoundCloud: soundcloud.com/steveaoki