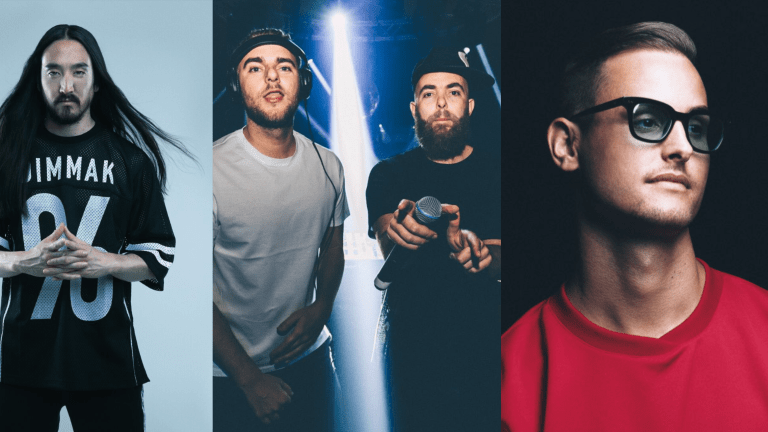 Steve Aoki Teams Up with Showtek and MAKJ to Drop "Rave" ft. Kris Kiss
Steve Aoki, MAKJ and Showtek charge headlong into the summer season with a fresh new "Rave" hit on Ultra Records.
Music is often said to be a universal language that brings everyone together, and the newest release from Ultra Records, "Rave," perfectly demonstrates that idea. Produced by Steve Aoki, Dutch duo Showtek (real name Sjoerd and Wouter Janssen), and American DJ/Producer MAKJ (real name Mackenzie Johnson), it also features the vocals of London-based singer/songwriter Kris Kiss. "Rave" is the next go-to summer heater.  
It comes as no surprise, given their impressive background of performing on some of the worlds largest festival stages, that these producers were able to create an uproarious crowd pleaser. "Rave" instills an undeniable main stage feeling with a moving beat and a crazy, amped-up pre-drop vocal. 
The music video that accompanies the song truly embodies the track's high-energy sound. Featuring all three producers, it shows a choreographed dance routine, as well as a small rave inside the back of a semi-truck. 
We can expect to hear this new festival anthem at venues across the world as all three producers are currently touring. Fans of Steve Aoki can catch him on tour at upcoming festivals such as Barcelona Beach Festival, Electric Nation, and Tomorrowland. He will also perform in Las Vegas all summer for his Hakassan Nightclub residency. 
Showtek will be taking the stage at Music Circus, Spectrum Festival, and Stereo Live. All tour information can be found here. MAKJ also has a couple of scheduled appearances for the summer season. For tour dates, visit here.
Stream or Download "Rave" featuring Kris Kiss by Steve Aoki, Showtek, and MAKJ today. 
FOLLOW STEVE AOKI:
Facebook: facebook.com/steveaoki
Twitter: twitter.com/steveaoki
Instagram: instagram.com/steveaoki
SoundCloud: soundcloud.com/steveaoki
FOLLOW SHOWTEK:
Facebook: facebook.com/showtek
Twitter: twitter.com/showtek
Instagram: instagram.com/showtek
SoundCloud: soundcloud.com/showtek
FOLLOW MAKJ:
Facebook: facebook.com/makjofficial
Twitter: twitter.com/makj
Instagram: instagram.com/makj
SoundCloud: soundcloud.com/makj
FOLLOW KRIS KISS:
Facebook: facebook.com/kriskissofficial
Twitter: twitter.com/kristiankiss
Instagram: instagram.com/kriskissofficial
SoundCloud: soundcloud.com/kriskissofficial