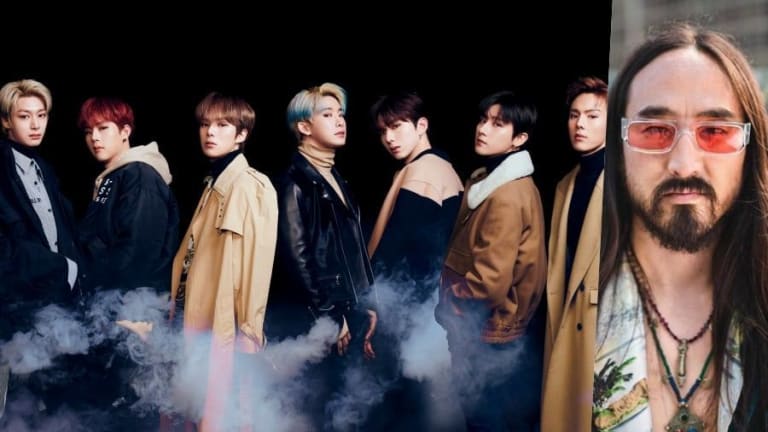 Steve Aoki and MONSTA X to Release English Version of "Play It Cool"
Steve Aoki's latest collaboration with a K-pop group is getting adapted for Western audiences.
Steve Aoki wasn't kidding when he said more collaborations with K-pop groups were on the way in 2019. Following the success of last year's joint endeavor with BTS titled "Waste It On Me," the L.A. DJ/producer teamed up with MONSTA X on "Play It Cool" last month. Now, he's revealed that an English version will come out at the end of the week.
The Korean version of "Play It Cool" was track #4 on MONSTA X's second studio-length album, Take.2 We Are Here, which came out last month. "It was such an honor and pleasure to work with [Steve]," the seven-member boy band had told Entertainment Tonight. "We are huge fans of his work, and we were so excited to find out that he is a fan of MONSTA X as well."
MONSTA X released their debut EP, Trespass, in 2015. Two years later their first studio-length album arrived in the form of The Clan Pt. 2.5: The Final Chapter, which consisted of ten songs.
Aoki's career has not only extended beyond international borders - it has transcended the music industry as well. In addition to his upcoming memoir, he now runs a pizza delivery chain and is launching a workout regimen through digital fitness platform NEOU.
The English version of Steve Aoki and MONSTA X's "Play It Cool" will arrive on Friday, March 22nd.
FOLLOW STEVE AOKI:
Facebook: facebook.com/steveaoki/
Twitter: twitter.com/steveaoki
Instagram: instagram.com/steveaoki/
SoundCloud: soundcloud.com/steveaoki
FOLLOW MONSTA X:
Facebook: facebook.com/OfficialMonstaX
Twitter: twitter.com/OfficialMonstaX
Instagram: instagram.com/official_monsta_x