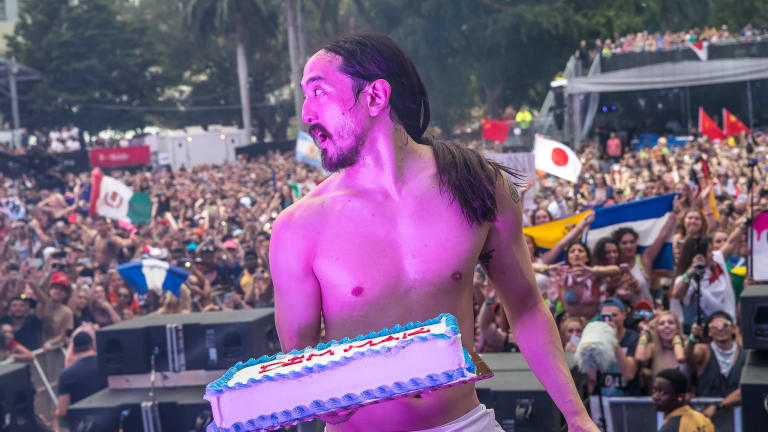 Steve Aoki Shares Preview of BTS Collab "Waste It On Me"
Steve Aoki and BTS' new track comes out tomorrow, but you can listen to a clip today.
Steve Aoki  has collaborated with countless artists over the course of his career, but his latest track sees him tap artists from the opposite side of the globe. For "Waste It On Me" the L.A. DJ/producer has joined forces with Korean boy band BTS.
"Waste It On Me" arrives in full tomorrow, October 24th, but Aoki has conjured up a clever way to tease it in the meantime. Fans who retweet the following tweet with the hashtag "#WasteItOnMe" get to hear a 40-second clip of the vaguely future bass-reminiscent single.
BTS stands for Beyond The Scene, but the seven-member boy band is also known as the Bangtan Boys. Since they debuted in 2013 with the album 2 Cool 4 Skool, they have won numerous awards and had albums chart on the U.S. Billboard 200.
It stands to reason that "Waste It On Me" will arrive by way of Steve Aoki's Dim Mak imprint, but neither Aoki nor BTS have confirmed it at the time of writing.
EDIT: A previous version of this article referred to "Waste It On Me" as K-pop. We have amended it and apologize for any inconvenience this may have caused.
Follow Steve Aoki: 
Facebook: https://www.facebook.com/steveaoki/
Twitter: https://twitter.com/steveaoki
Instagram: https://www.instagram.com/steveaoki/
SoundCloud: https://soundcloud.com/steveaoki
Follow BTS:
Facebook: https://www.facebook.com/bangtan.official/
Twitter: https://twitter.com/BTS_twt
Instagram: https://www.instagram.com/steveaoki/
SoundCloud: https://soundcloud.com/bangtan