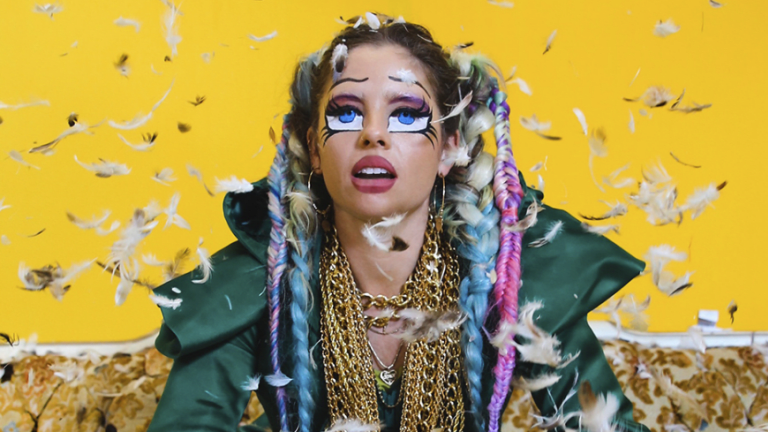 Steve Aoki Delivers Moombah-Tinged Remix of Elephant Heart's "The Digital" [Premiere]
EDM.com is proud to premiere this addicting Steve Aoki remix.
Last month, Elephant Heart bridged the worlds of EDM, pop and world music with their unforgettable track "The Digital." A remix pack for the single is due out tomorrow, and EDM.com is proud to premiere Steve Aoki's contribution a day in advance.
In his highly danceable reimagining, Aoki stretches out the subtle groove of the source material's drum pattern into full-on moombahton syncopation. A fat bass line at the drop will appeal to any speaker huggers in a crowd where the remix is cued up. By and large, Aoki succeeded in doing justice to the original while incorporating just enough elements to make it resonate with his more festival-focused audience.
Elephant Heart, a husband-and-wife duo comprised of Jason and Victoria Evigan, broke through in 2018 with singles like "Warfare" and "Hiya" leading the charge. Major industry tastemakers outside of electronic music have taken notice. Among their high-profile collaborators are Jason Derulo, Nick Jonas and Demi Lovato.
For EDM.com readers, Steve Aoki needs no introduction. Perhaps best known for throwing cake at festival audiences, his brand of electro house has afforded him collaborations with The Bloody Beetroots, Afrojack and Armand van Helden, just to name a few.
"Steve and I have collaborated on some projects the past few years with other artists," Jason told EDM.com. "When we started thinking about remixes we felt like Steve would understand what to do with this track. Couldn't be happier with what he did. It goes pretty hard and keeps the DNA of the song. We wanted to spread out the styles of remixes for this song. We have a house track From DJDS and a super wompy bass mix from The Funk Hunterz and DeFunk. We love all genres of electronic music so we never want to box ourselves in."
Pre-order or pre-save The Digital (Remixes) across platforms here ahead of its release tomorrow, September 20th.
Follow Elephant Heart:
Facebook: facebook.com/elephantheartmusic
Twitter: twitter.com/elephant_heart
Instagram: instagram.com/elephant_heart
SoundCloud: soundcloud.com/elephantheart-music
FOLLOW STEVE AOKI:
Facebook: facebook.com/steveaoki
Twitter: twitter.com/steveaoki
Instagram: instagram.com/steveaoki
SoundCloud: soundcloud.com/steveaoki