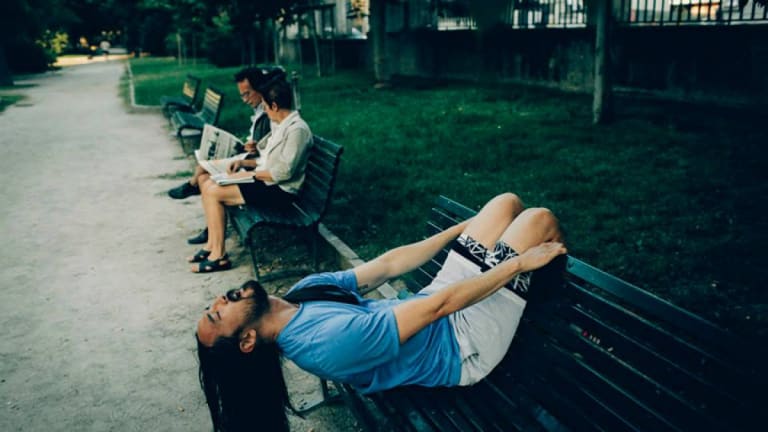 Steve Aoki Recalls His Punk Rock Roots With New Remix "The Best" [LISTEN]
Steve Aoki give a dance spin to the experimental punk group, Mangchi's, original track.
EDM superstar and chameleon producer Steve Aoki just released his new remix. He went back to his punk rock roots with a remix of "The Best" by experimental punk band Mangchi.
Fronted by street artist David Choe and featuring Money Mark from the legendary Beastie Boys, Mangchi is Los Angeles based experimental punk band. This is not their first collaboration with Aoki, as Choe designed clothes for Aoki's Dim Mak Collection fashion line, while the band itself performed at Aoki's show at this year's New York Fashion Week. David Cloe also designed the artwork for this release, and it includes his signature Munko whales.

With a motivational vocal sample that sounds a lot like Morgan Freeman, Steve Aoki's remix of "The Best" is a bass house inspired spin on the multi-genre original. Whereas Mangchi's is a hard-hitting experimental track pulling influence from post-hardcore, rap, and even a touch of soulful jazz vocals, Steve Aoki's envisions "The Best" in an entirely new way.
Check it out below:
This is not the first time Aoki approaches rock music. Last year he released a remix of pop punk icons Blink-182 song "Bored to Death," while collaborated with their drummer Travis Barker on a song "Misfits" from Barker's 2011 solo debut Can A Drummer Get Some?. Barker returned the favor with guest appearance on Aoki's single "Cudi the Kid" featuring Kid Cudi. Aoki also collaborated with alternative rock band Linkin Park on songs "A Light That Never Comes" and "Darker Than Blood."
It doesn't stop there. Dim Mak Records have also previously released music by rock bands such as Gossip, Bloc Party, and The Kills. The label's latest divergence from dance music features a self-titled debut by straight edge hardcore band XTRMST, a side project of AFI's frontman Davey Havok and guitarist Jade Puget.
Not familiar with Mangchi? You can hear the original song below.