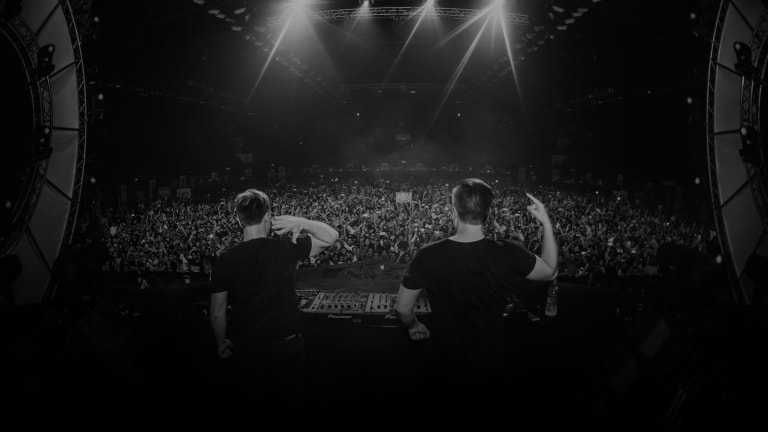 Super8 & Tab's Compilation Album, Past, Present & Future, Delivers a Beautiful Cross Section of Trance [Review]
The Finnish duo have compiled tracks from across decades of trance music.
Trance veterans Miika Eloranta and Janne Mansnerus, collectively known as Super8 & Tab, have been hard at work on a new compilation album. Having previously mixed many other compilations including Anjunabeats Worldwide 01 & 02, and releasing three original artist albums titled Empire, Unified, and Reformation, the duo have put forth a brand new effort on Armada Music titled Past, Present & Future.
The concept of the album is exactly what the title suggests; tracks have been selected from decades of trance music to illustrate the genre's rich history, its current trends, and the direction Super8 & Tab see it going in the future. A multitude of familiar names spanning the entire realm of trance and beyond are scattered throughout the album including Ferry Corsten, Myon, Above & Beyond, Dimitri Vegas & Like Mike, Armin van Buuren, and many more. 
Genre enthusiasts will find familiar classic titles with new twists on the compilation, including Mark Sixma's energetic remix of the timeless "1998" by Binary Finary, a remix of the anthem "Strange World" by Push from progressive titan Andrew Bayer, and Ashley Wallbridge's uplifting take on Super8's own "Alba." There's even a 2019 update of Super8 & Tab's hit "Helsinki Scorchin'" to open up the mix, and their remix of the classic "Amsterdam" by Luminary to close it out, ending the compilation on a track that was released all the way back in 2006.
Past, Present & Future perfectly encapsulates the euphoric and uplifting yet driving and groovy trance sound for which Super8 & Tab have become so well known throughout the years. Constantly pushing boundaries and reforming their sound, while maintaining those ever-important elements that make the duo's work so recognizable, Super8 & Tab have provided a compilation album sure to satisfy trance fans across the entire spectrum of the genre. Everything from progressive trance to tech, uplifting to classic is present and well organized to build and drop the energy throughout the hour and 25-minute mix. 
Super8 & Tab's latest effort fires on all cylinders from start to finish. Capturing the experience of attending a DJ set from the Finns and making it available to hear anytime, anyplace, Past Present & Future touches on just about every aspect of their music. Festival anthems roll seamlessly into techier selections, and uplifting sections provide euphoria with lyrics that listeners will undoubtedly sing along with for weeks. Eloranta and Mansnerus have created a compilation that will be treasured by the trance community for years to come, and will hopefully be the first of many of its kind. 
Timed perfectly with the album's release, Super8 & Tab are hitting the road for more global touring, with stops in Finland, Singapore, L.A., Kiev, and many more to be announced. Past, Present & Future is available now, and can be found here.
Follow Super8 & Tab: 
Facebook: facebook.com/super8tab
Twitter: twitter.com/super8tab
Instagram: instagram.com/super8andtab
SoundCloud: soundcloud.com/super8tab