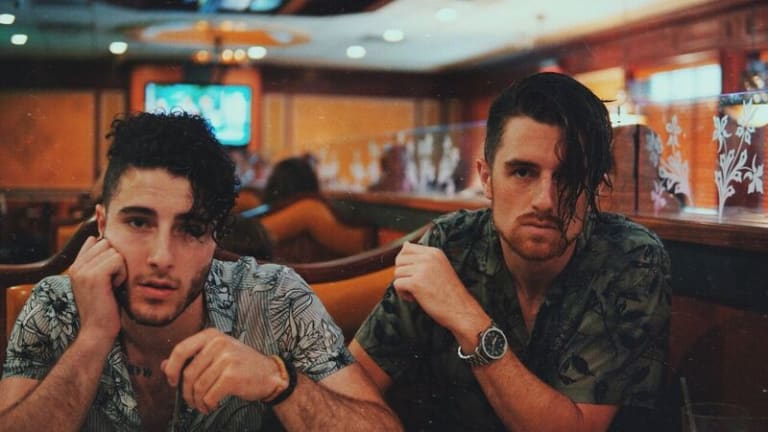 Dave Edwards and Fly By Midnight Collab for "Swimming With Sharks" [Listen]
Beautiful lyrics come together with a dance driven track to bring this upbeat song to life.
Dave Edwards, based out of New York City, is an electro, progressive house, and pop producer.  He has produced remixes for the likes of The Chainsmokers and Galantis while sharing the stage with Pierce Fulton, Alex Metric, and more.  He is known for having a unique sound that mixes progressive electro with more pop-sounding vocals, captivating a large audience.
Justin Bryte and Slavo make up Fly By Midnight, a retro-pop duo also based out of New York City.  These two collaborated on various projects a few years back and saw the potential of continuing to work together.  Not only do their infectious harmonies grab listeners' attention, but their live shows have evolved to be a full out party, bringing a fun, interactive experience to the audience.  This year, Fly By Midnight performed at various festivals around the country including Firefly Music Festival and Panorama Music Festival.
"Swimming With Sharks" marks Fly By Midnight's first real dive into dance music.  By collaborating with Dave Edwards, this new trio has combined catchy lyrics and an energetic melody to produce a perfect end-of-summer track.
I'm shallow, shallow

I need you to help me out

I'm swimming with sharks right now

I need you to pull me out
This new release is filled with plenty of vocals, and the subtle percussion and synths in the background flow perfectly into the dance-filled chorus.  If you like artists such as Audien, Louis The Child, or Loud Luxury, you definitely need to listen to this track in full!  Check out their lyric video below, or click here for more streaming options.
Keep up with Dave Edwards and Fly By Midnight for more news!