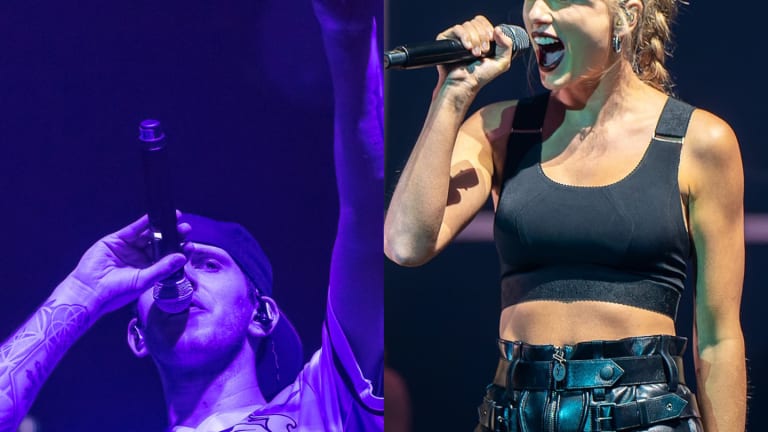 Taylor Swift Teams Up With ILLENIUM for Soaring Remix of "Anti-Hero"
Swifties, meet ILLENIUM.
Unlike Ticketmaster, there's no bad blood between Taylor Swift and ILLENIUM.
She's tapped the Grammy-nominated dance music superstar for an official remix of "Anti-Hero," the lead single from her 10th studio album, Midnights. And ILLENIUM does what he does best, transforming the synth-pop track into a soaring future bass anthem.
The high-profile remix arrives as ILLENIUM records his fifth album, which he revealed in September. Take a listen below.
Meanwhile, Midnights has broken all kinds of records, becoming Spotify's most-streamed album in a single day after its release. But it hasn't come without controversy.
Swift partnered with Ticketmaster to offer her superfans early access to tickets for her "Eras" tour. However, a glitch in the company's Verified Fan program led to pandemonium for Swifties, many of whom received error messages or found themselves trapped in the queue for hours.
Ticketmaster ultimately released statement attributing the debacle to "historically unprecedented demand." Due to a staggering 3.5 million pre-registers, Swift's team then added more shows and tickets, inviting roughly 1.5 million to participate in the pre-sale with the other 2 million on a waiting list, per Yahoo Entertainment.
On top of the explosive demand, the pre-sale became the target of "bot attacks," according to Ticketmaster. The system was inundated with 3.5 billion requests, which was around four times more than the company had ever experienced. They ended up selling 2 million tickets on Tuesday, the most they've ever sold for an artist in a single day.
Follow Taylor Swift:
Facebook: facebook.com/TaylorSwift
Twitter: twitter.com/taylorswift13
Instagram: instagram.com/taylorswift
Spotify: spoti.fi/3AsfJ37
Follow ILLENIUM:
Facebook: facebook.com/ILLENIUM
Twitter: twitter.com/ILLENIUMMUSIC
Instagram: instagram.com/illeniummusic
Spotify: spoti.fi/2XO5NxG