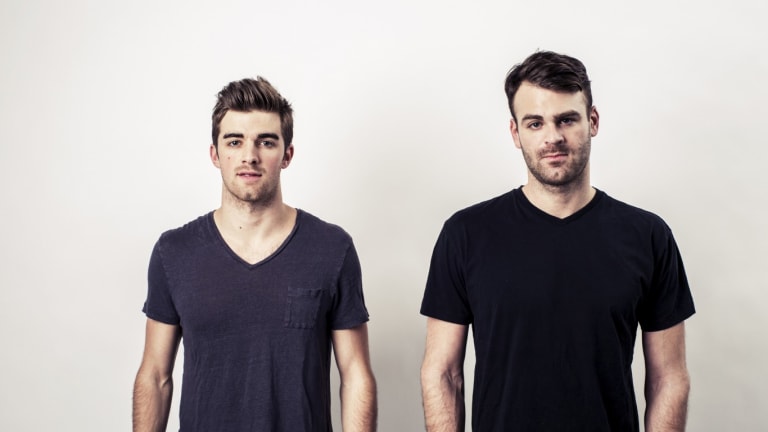 The Chainsmokers Tease 5 Seconds of Summer Collab "Who Do You Love"
The Chainsmokers tapped talent from down under for their next release.
By now it should come as no surprise anytime The Chainsmokers broaden their horizons outside of EDM. The DJ/producer duo recently revealed that they had a Blink 182 collaboration in the works, but before it sees the light of day they'll be releasing a joint endeavor with 5 Seconds of Summer (5SOS).
In the meantime, The Chainsmokers (consisting of Alex Pall and Drew Taggart) have shared a clip of their 5SOS collaboration, "Who Do You Love." Unfortunately for fans of the former act, however, the preview only includes a radio-ready vocal harmony delivered by the latter.
The Chainsmokers may have experienced a false start when their 2014 breakout single "#SELFIE" garnered questionable attention, but they arguably used the opportunity to their benefit. Between their 2015 single "Roses" and their 2016 hit "Closer," the duo proved their versatile brand of EDM to be more than a flash in the pan.
5SOS, on the other hand, boast a career dating back to 2011-2012. After transitioning from YouTube sensation to touring in support of U.K. group One Direction, their debut single arrived in the form of "She Looks So Perfect" in 2014. They have released three studio-length albums in the time since.
"Who Do You Love" by The Chainsmokers featuring 5 Seconds of Summer comes out on Sony Music this Thursday, February 7th. Pre-save it on Spotify or pre-add it on Apple Music here.
FOLLOW THE CHAINSMOKERS:
Facebook: https://www.facebook.com/thechainsmokers/
Twitter: https://twitter.com/TheChainsmokers
Instagram: https://www.instagram.com/thechainsmokers/
SoundCloud: https://soundcloud.com/thechainsmokers
Follow 5 Seconds of Summer:
Facebook: facebook.com/5secondsofsummer
Twitter: twitter.com/5sos
Instagram: instagram.com/5sos