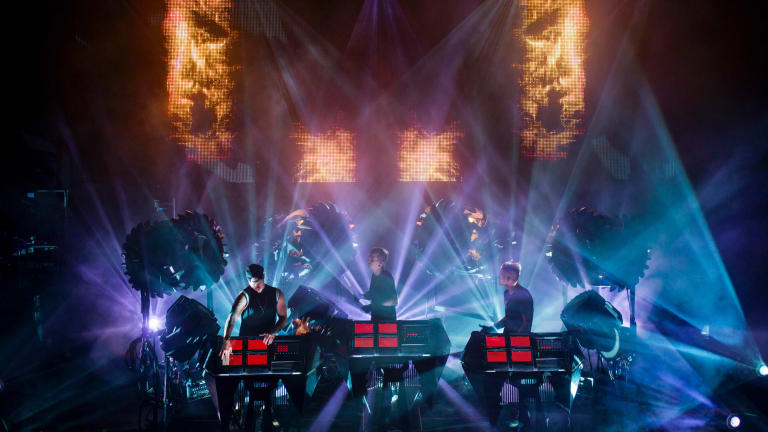 The Glitch Mob unleash "Take Me With You" Featuring Arama Ahead of New Album
The Glitch Mob's upcoming album is shaping up to be epic!
The Glitch Mob have continued playing shows ever since they dropped their last concrete piece of music in 2015: their epic 3-track "Piece of the Indestructible" EP. And it's common knowledge that when a group of such status keeps fans waiting for that long, it's definitely going to be worth the wait. 
Justin Boreta (Boreta), Edward Ma (edIT), and Joshua Mayer (Ooah), making up the LA-based trio, have been teasing their new chapter for some time now, and the first wave came a month ago with the announcement of their 2018 World Tour with support from Elohim and Anomalie, and their latest album shortly after. Titled See Without Eyes, it marks their first LP in 4 years and it's already shaping up to be epic, nothing less that one would expect from The Glitch Mob. 
The first single off See Without Eyes was titled "How Could This Be Wrong" and was featuring singer Tula, and while it featured the classic energy we expect from a Glitch Mob track, recently released "Take Me With You" featuring vocals from Arama is much more melodic, more vibey, more atmospheric. Cinematic drums and percussion set the mood, while the trio's epic production combines melodic plucks, vocal chops, catchy chords, and heavy synths, that interchange in complex patterns, building a grandiose-as-usual soundscape, that is perfectly in line with the visual companion. 
The Glitch Mob's album See Without Eyes is coming out May 5th. Preorder it here: http://theglitchmob.com
Follow The Glitch Mob: 
Facebook: https://www.facebook.com/theglitchmobmusic/
Instagram: https://www.instagram.com/theglitchmob/
Twitter: https://twitter.com/theglitchmob
Soundcloud: https://soundcloud.com/theglitchmob