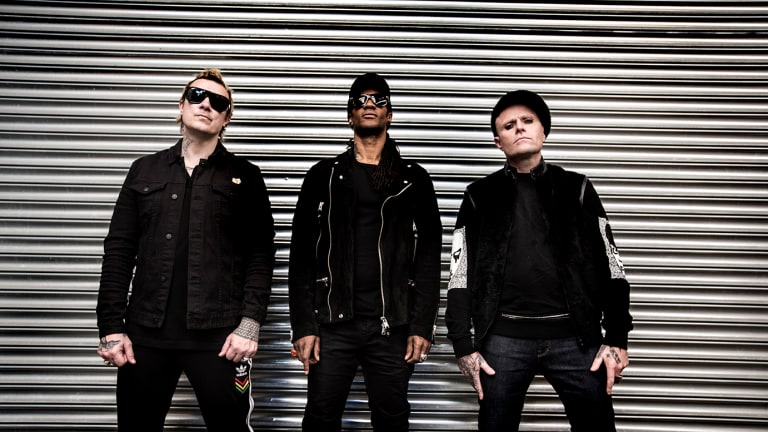 The Prodigy release new track "Fight Fire With Fire" (ft. Ho99o9) Ahead Of Their Album Release
The Prodigy just released another track from No Tourists: a collaboration with New Jersey's finest noise crew, Ho99o9.
Responsible for bringing UK electronic music to the U.S., The Prodigy is among the most culturally significant acts of the last thirty years. With some of the most iconic dance music releases under their belt, from "Firestarter" to "Smack My B*tch Up" and "Omen" to "Charly," the trio have stayed defiantly underground while remaining true to themselves. They dominated the illegal rave scene, challenged anti-rave legislation, and redefined the whole idea of what a band should be like. 
No Tourists is the band's seventh studio album. It's a ten-track effort unabashedly brought together from the sounds that they've made their own. From the album's very first single, "Need Some 1," No Tourists is meant to take the listener on a journey through the twisted, party-hard psyche of the band. As far as the album drop itself is concerned, No Tourists is set for release on November 2nd. 
Explaining what the album and the title mean to the band, main man Liam Howlett said from a North London studio:
No Tourists is ultimately about escapism, and the want and need to be derailed and not to be a tourist and follow that easy, set path. In these times we live in, people have become lazier and forgotten how to explore. Too many people are allowing themselves to be force fed, with whatever that may be. It's about reaching out further to find another alternative route where the danger and excitement may be to feel more alive - not accepting that you can just be a tourist. That's what the title is about for us.
The Prodigy have today unveiled new track, "Fight Fire With Fire" ft. Ho99o9, the third track to be released from the album. The result is a downtempo, heavy-grooved, surefire banger. 
Speaking on the collaboration, Howlett said, 
This was the first track I wrote for this album. As far as doing a collaboration, the Ho99o9 guys were the main band I wanted to work with, and this tune has so much danger embedded in it. It's the best collaboration we have done.
No Tourists will be available digitally, on CD, cassette, and heavyweight double vinyl. It can be pre-ordered here.
The band's twenty-date winter tour begins next month with support from Ho99o9 at selected UK dates. It coincides with the album release date as well. Although a number of shows are already sold out, find a complete list of tour dates below:
UK TOUR DATES
November 2: Glasgow SEC Hall 4 (w/ Bad Company UK)
November 3: Nottingham Motorpoint Arena (w/ Rene LaVice)
November 5: Brighton Centre (w/ Rene LaVice) **sold out**
November 6: Plymouth Pavilions (w/ Rene LaVice) **sold out**
November 8: Liverpool Echo Arena (w/Ho99o9)
November 9: Cardiff Cardiff Motorpoint Arena (w/ Ho99o9)
November 10: Birmingham Arena (w/ Ho99o9)
November 13: Leeds First Direct Arena (w/ Rene LaVice)
November 14: London Alexandra Palace (w/ Friction)
November 15: London Alexandra Palace (w/ Ho99o9) **sold out**
EUROPEAN TOUR DATES
November 27: Berlin Max- Schmeling Halle, Germany
November 28: Munich Zenith, Germany
November 30: Livorno Modigliani Forum, Italy
December 1: Rimini RDS Stadium, Italy
December 3: Zurich Hallenstadion, Switzerland
December 4: Frankfurt Festhalle, Germany
December 5: Düsseldorf Mitsubishi Electric Hall, Germany
December 7: Brussels Forest National, Belgium
December 8: Luxembourg Rockhal Main Hall
December 9: Amsterdam Ziggo Dome, Netherlands
Follow The Prodigy:
Facebook: https://www.facebook.com/theprodigyofficial
Twitter: https://twitter.com/the_prodigy
Instagram: https://www.instagram.com/theprodigyofficial
SoundCloud: https://soundcloud.com/theprodigy