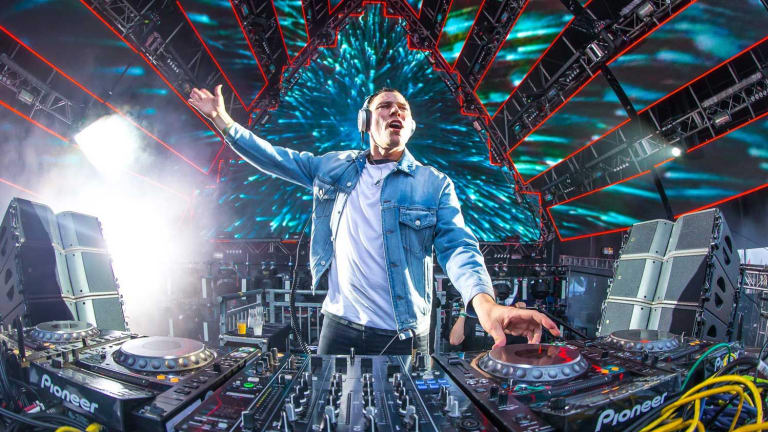 Tiësto Reunites With Dzeko On Club Track "Halfway There" ft. Lena Leon
The godfather of EDM is back to the big room.
Tiësto isn't letting a recent controversy slow him down. The legendary Dutch producer is back with another club track, "Halfway There" in collaboration with Dzeko featuring Lena Leon. The two have produced some popular hits such as "Crazy," "L'Amour Toujour," and the insanely successful "Jackie Chan." Does "Halfway There" have what it takes to garner the same fame? 
The song, out now on Musical Freedom, starts with an anthemic and aggressive-sounding lead. The distorted drums and risers join the lead for a massive build up that drops into a pulsing, four-on-the-floor dance song. After the first drop, the instrumental drops to become quite minimalistic, leaving room for the female topline. As Leon's vocals gain energy, so does the beat, bringing us into the memorable build section with a catchy vocal melody. 
The hook "Halfway There" is joined by the original synth lead, and a bunch of drums and risers creating the biggest build yet. This drops back into a similar drop to the first, with even more energy. The growling bass along with the fat drums and shiny lead makes for a memorable drop. 
Tiësto is one of those names that have become synonymous with electronic dance music. The international icon has been around for decades putting out hits left and right. With 2019 in full effect, you can catch his undeniable magnetism far and wide this festival season. He will be returning to his Hakkasan residency and is set to perform at Ultra Music Festival, EDC Japan, and EDC Las Vegas. 
Dzeko (born Julian Dzeko) is a producer and DJ from Toronto, Canada once known for his work as the duo Dzeko & Torres. Once he split from his former collaborator, who chose to take a less high-profile role in the industry, the success story began. After linking up with his idol, Tiësto, on the chart-topper "Jackie Chan" there's no showing what's next for this young producer. 
Lena Leon is an acclaimed singer, producer, audio engineer and songwriter from New York City. She has racked up millions of plays on Spotify and hit #1 on charts around the globe. Her latest feature was with the popular producer Deorro on his track "Focus."  This latest release with Tiësto and Dzeko is just another notch on her already successful discography. 
Follow TIËSTO:
Facebook: facebook.com/tiesto/
Twitter: twitter.com/tiesto
Instagram: instagram.com/tiesto/
SoundCloud: soundcloud.com/tiesto
FOLLOW DZEKO:
Facebook: facebook.com/Dzeko/
Instagram: instagram.com/dzeko/
Twitter: twitter.com/Dzekomusic
FOLLOW LENA LEON:
Facebook: facebook.com/itslenaleon/
Instagram: instagram.com/itslenaleon/
Twitter: twitter.com/itslenaleon