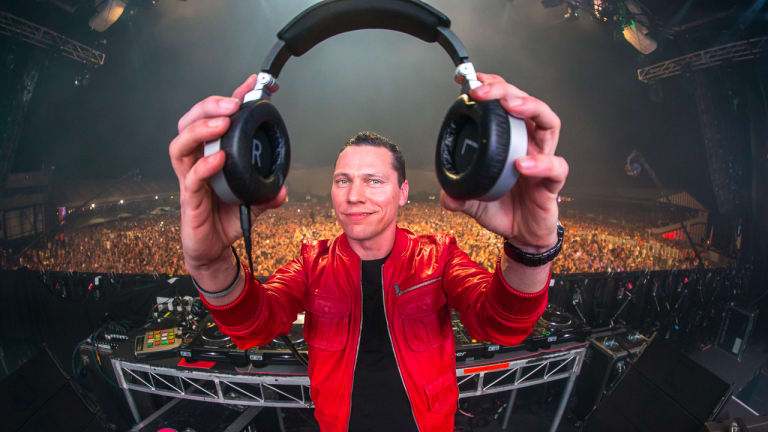 Tiësto Reimagines Marvin Gaye in Brazilian Bass-Inspired "Grapevine"
Somehow we don't expect Tiësto to land in Marvin Gaye's family's legal crosshairs.
Tiësto's latest single exhibits an unlikely fusion between classic soul and an obscure EDM subgenre. The Dutch superstar DJ/producer and Musical Freedom label head sampled the late Marvin Gaye for a Brazilian bass track titled "Grapevine."
As one might glean from the title alone, the centerpiece of "Grapevine" is a sample of the iconic vocal from Gaye's 1968 classic "I Heard It Through the Grapevine." Underscoring it is a gravelly bass line distinctly similar to those of Brazilian bass songs like Alok and Liu's "Bolumback" or "Whip It Up" be Sevenn.
Marvin Gaye's discography has sparked controversy over the past few years as numerous artists have come under fire for plagiarizing intellectual property belonging to his estate. His surviving family members were awarded $5.4 million in a lawsuit against Robin Thicke and Pharrell Williams on the grounds that their 2013 single "Blurred Lines" borrowed too heavily from "Got To Give It Up" by Gaye (who was shot dead by his father in 1984). 
More recently, Ed Sheeran was targeted by Gaye's family for plagiarizing the 1973 hit "Let's Get It On" in his 2014 song "Thinking Out Loud."
Being that Tiësto's new track borrows more directly from one of Marvin Gaye's songs, he almost certainly took measures to ensure that it it wouldn't meet the same fate as those of Thicke, Williams and Sheeran. "After first playing 'Grapevine' and getting such a huge response at Ultra Miami this year, I knew it was special," he said in a statement. "The infectious vocal is a cover from the Marvin Gaye classic 'I Heard It Through The Grapevine.'"
Stream or download "Grapevine" by Tiësto across platforms here.
Follow Tiësto:
Facebook: https://www.facebook.com/tiesto/
Twitter: https://twitter.com/tiesto
Instagram: https://www.instagram.com/tiesto/
SoundCloud: https://soundcloud.com/tiesto