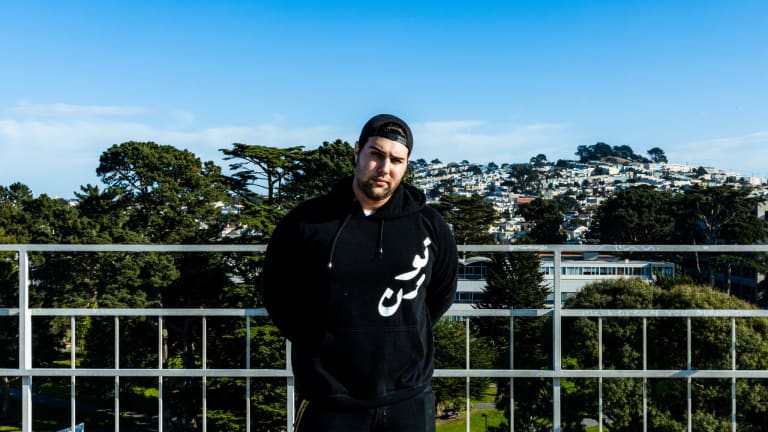 Bass Producer No-One Transforms Stayloose's "Tiny Warrior" ft. Robi
No-One gave the sultry original a heavier twist.
Emerging from Amman, Jordan, and now residing in the booming city of San Francisco, Jordanian-American producer No-One has broken new ground with his remix of Stayloose's "Tiny Warrior" featuring Robi off his 2019 album, Bad Star. The new single comes way by Hebinomichi, a collective started by Stayloose and Ahh Ooh. 
Reminiscent of the femme fatale, sultry attitude heard from artists like BONNIE X CLYDE or fknsyd, No-One's reimagined "Tiny Warrior" balances elements of R&B and trap. Taking the seductive vocals from Robi in the original, he transforms them in his remix to give them a punchier, higher-impact delivery.
The freshly minted producer has already made a large impression on the music scene with his remix of Billie Eilish and Khalid's "lovely" alongside Midsplit, Jordan Kasedy, and A-SHO. Similar to his "Tiny Warrior" remix, his rendition of "lovely" reworks the slow and soft vocals from the original into a bassy, experimental trap cut. The track sits at just under 2 million streams on Spotify. 
The impassioned and alluring tone of his remixes can be heard across other tracks of his such as his remix of Lucy Daydream's "Red" and Delaney Jane's "Hotel Room." Fans can expect to hear more from the rising producer as he makes his forward-thinking sound design a staple of the bass music industry. 
"Tiny Warrior (No-One Remix)" is available on all streaming platforms. Listen here.
FOLLOW NO-ONE:
Facebook: facebook.com/noonetunes
Twitter: twitter.com/noonetunes
Instagram: instagram.com/noonetunes
SoundCloud: soundcloud.com/noonetunes
FOLLOW STAYLOOSE:
Facebook: facebook.com/stayloosemusic
Twitter: twitter.com/stelouse
Instagram: instagram.com/stelouse
SoundCloud: soundcloud.com/stayloosemusic
FOLLOW HEBINOMICHI:
Facebook: facebook.com/hebinomichi
Twitter: twitter.com/hebinomichi
SoundCloud: soundcloud.com/hebinomichi