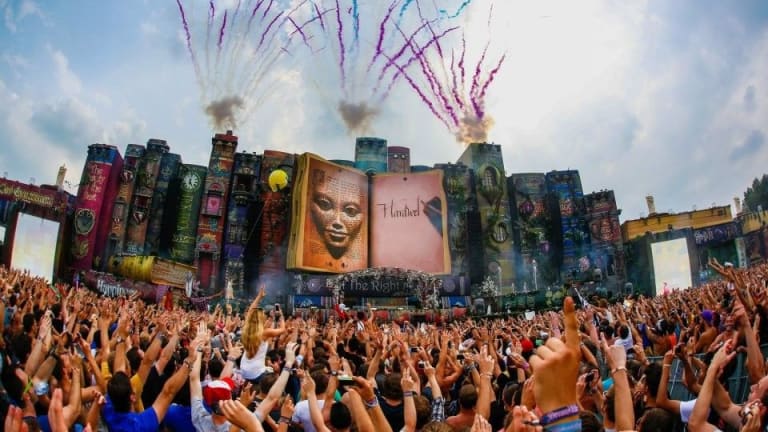 Has Tomorrowland Revealed Clues for Its 2020 Theme?
Speculation surrounding Tomorrowland's 2020 theme has already begun.
Another year of Tomorrowland has come and gone - but speculation surrounding next year's festival has already begun. Almost no information about the 2020 edition has been announced, but is it possible we already know the theme of next year's event?
A new story from EDMTunes postulates the Boom, Belgium festival could be headed for a space-themed chapter next year. Tomorrowland's 2019 theme "Book of Wisdom" was back by popular demand. The festival sported a similar theme in 2015. However, embedded in this year's Book of Wisdom main stage lies the first clue a space-themed event could be on the horizon. 
The main stage's book shelf was filled with books reminiscent of previous chapters in Tomorrowland's history. One book that particularly stood out, however, lacked such historical significance. A book called "Pyramids From Space" sat in the center of the stage with a giant "20" written near the top of the binding. Fans are speculating this "20" alludes to the year 2020 itself.
Tomorrowland's Harbour House stage featured subtle alien themed decor as well. Adding to the intrigue of these stage designs is the souvenir of sorts Tomorrowland Global Journey customers were given - a space themed sleeping mask. The mask shows a similar moon-phase design much like the one depicted on the cover of the main stage book "Pyramids From Space."
It's difficult to say at this point whether these are just coincidences or foreshadowing. Nonetheless, Tomorrowland's use of space-themed designs is puzzling given the Book of Wisdom theme, a motif attendees have seen and are familiar with from the festival's recent past.
FOLLOW TOMORROWLAND:
Facebook: facebook.com/tomorrowland
Twitter: twitter.com/tomorrowland
Instagram: instagram.com/tomorrowland