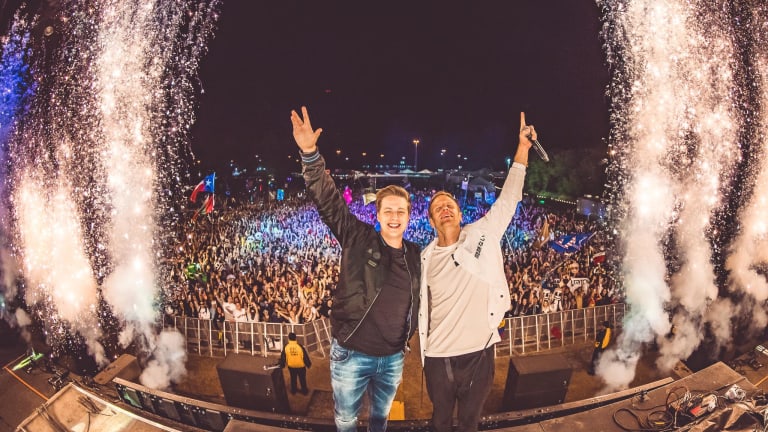 Tritonal Weave Together a Captivating Message of Love in Their New Album, U & Me [Interview]
Tritonal give us an insight into their recent 19-track album, U & Me.
After a year of dropping singles from their highly anticipated third studio album, DJ duo, Tritonal have finally released U & Me.
From beginning to end, the 19-track musical journey pulls at your heartstrings with songs about love and the support that comes with it. For Chad Cisneros and Dave Reed, who make up Tritonal, the album's short and straightforward title, "U & Me," is perfectly fitting. To them it's a "very simple pointer towards unity and love," two things that they both feel is natural in life.
They told EDM.com that it's also a topic that was inspired from an "inward journey" that they've taken over the last few years. Involving awakening to "deeper levels of awareness and consciousness," it's something Cisneros says "is still very much active" in both of them and will hopefully last a lifetime. 
For the past year, Cisneros and Reed have teased the album and this love and unity theme. With 12 different singles released every month or so, they've gotten us accustomed to it and ultimately excited for more.
Among these releases was one of the two tracks vocalist Lourdiz was featured on, "Love U Right." The duo donated its streaming royalties to the National Alliance on Mental Illness. They also did the same when "Gonna Be Alright" with Mozella was released. 
Cisneros and Reed also teamed up with another vocalist, RYANN, on two tracks as well. "Hard Pass" is a song about denial and not wanting to be in a relationship anymore. Its accompanying music video visualizes that growing distance between two people as the protagonist continually floats up into the sky until she reaches space. On the other hand, their collaboration with Kapera, "Easy," is about wanting to make a relationship work despite the complications.
However, one of the most popular of these releases and the epitome of the album was lead single, "U Found Me." The melodic anthem and its lyrics exudes the warmth and appreciation of having someone who's there for you in your lowest moments to pick you back up. 
The remaining tracks on U & Me that weren't previously released also share the love and unity theme. Lourdiz's other track on the album, "Little By Little" introduces us to an amazing musical experience that's filled with positive vibes. It starts slow, but, like its title, it builds up little by little into a feel good dance pop track that's about wanting to get closer to someone.
"Little By Little" transitions flawlessly into another dance pop track, "Bloom." Its chill vibes and mellow vocals take a more easygoing approach to the theme. And it's almost as if the lyrics are a direct response to the previous song with wanting to be with the person too and asking them to stay. 
Most of the other new releases like "Leaving Here Alone," "Medicine" and "Ayana" are placed towards the second half of the album and are mixed in with the previously released music in a way that makes each one stand out.
For example, "Quit U" takes on a more relaxed tropical vibe that you don't really hear anywhere else in the album. When you do finally reach it, it's pretty refreshing. Its soothing vocals also add to the overall easy flow of the song while its speaker fails to convince herself to not go back to someone. 
"Show U Love" featuring vocalist Shanahan brings us back to that golden era of progressive house, but with a touch of future house sprinkled on top. More electro infused than most of the other songs on the album, it's definitely another refreshing track. The lyrics also still drip with love as the speaker, if given the chance, wants to help someone they care about.
After listening to U & ME in its entirety, it's hard not be blown away. Left with a few questions, EDM.com had the opportunity to ask Cisneros and Reed about a couple of things we were curious about.
EDM.com: You have 19 songs on U & ME, which is a pretty big number, but not unusual for you guys. What goes into the process of planning and making something at this scale and what do you think of longer versus shorter albums?
Dave: Haha, yes we do indeed! There really isn't a way to say whether or not we wanted or planned to do a longer or shorter album in the beginning. But, we do love to tell a story. We also wanted to aim for a healthy body of music that we love and stand behind—be that eight songs or, in this case, well...19. 
We enjoy the journey nonetheless and we wanted to showcase this in the album as a whole. I think whether shorter versus longer albums, so long as the body of music ties in and you, as a listener, can hand pick your favorites, put it on repeat and simply enjoy it. It makes any album length worthy. 
Going into this album, did you find yourselves experimenting more with your sound and mixing in elements from other subgenres? What song was the most fun to create from start to finish?
Chad: Some of the records were definitely a bit more experimental for us - "Ayana" and "Medicine" being two that come to mind! "Ayana" was heavily inspired by our love for Jon Hopkins and the weird stuff he does in his productions, we're slightly obsessed there. 
"Medicine" was a collaboration with LEVV, an artist we're extremely excited about. That ended up leaning drum and bass in parts, but at its essence its very much a trance-feeling song. Pulling from those roots was very emotionally rewarding. I'd say "Medicine" is my favorite track on the album, followed closely by "U Found Me!"
There are three songs ("Little By Little," "Medicine," "Ayana") that have beautiful intros. What was your inspiration behind having such long intros? Was placing them as bookends and in the middle intentional?
Chad: Well, I think knowing that we were writing an album was the inspiration in and of itself, as we view albums as more of a story or statement. Placing them this was very intentional, as to give the "story" chapters, sort of. This kind of expansive, spacious music is our favorite kind of stuff to write, as again it pulls from our love of ambient and trance music. All the little details are easy to get lost in, we love that hypnotic nature of sound.
Out of all the songs on the album, which one is the most meaningful song to you? 
Dave: I feel there are many records on this album that are super meaningful to both of us...some of the lyrics are super emotive and really felt. If I had to pick one right now—I'd say "Medicine," absolutely love it - there is so much emotion contained in it.
After previously partnering with the National Alliance on Mental Illness (NAMI), Cisneros and Reed are doing so again with this album. A percentage of U & Me's merchandise proceeds will be donated to the organization to help spread awareness for mental health within the music industry. NAMI is the largest organization in the United States that works with local affiliates on a daily basis to raise awareness about mental health and help provide support to anyone who needs it - a cause near and dear to the duo. 
Growing up, Cisneros was a drug addict and at one time was even incarcerated. However, with the help of professionals and a network of sponsors he overcame his addiction and is now helping others do the same with his own rehabilitation center in Austin, Texas called Infinite Recovery. Reed also faces his own battles. While attending school he was very self-conscious because he had huge problems with public speaking. Today, he still faces a bit of that challenge when it comes to filmed interviews. To add to it, he's recently been diagnosed with a glandular problem that causes weight gain, which he's been working on minimizing. 
In a job where you have to be extroverted, it's been a challenge for both Cisneros and Reed, but they love what they do and they're not stopping anytime soon. Music helps them cope and U & Me is a testament to how far they've come and expresses their pure hope that its songs will help other people who need a little love and support in their lives.
Follow Tritonal:
Website: tritonalmusic.com
Facebook: facebook.com/Tritonal
Twitter: twitter.com/tritonal
Instagram: @tritonal
Soundcloud: soundcloud.com/tritonalmusic