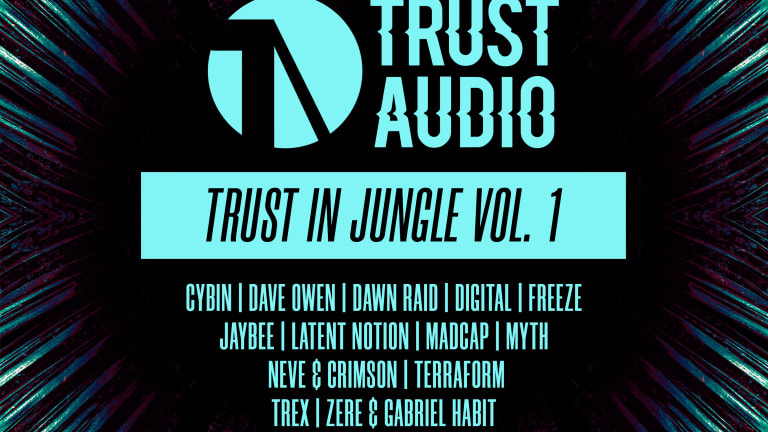 Trex's Trust Audio Offers First Jungle Compilation, Trust In Jungle Vol. 1
These 13 tracks span the spectrum of jungle and liquid drum and bass.
Following up ten individual label releases thus far, drum and bass maestro Trex has compiled 13 new tracks for release on his imprint Trust Audio's new compilation series, aptly titled Trust In Jungle. Trust In Jungle Vol. 1 is out, and is a vibrant, fresh offering from many talented producers across the spectrum of jungle and liquid drum and bass.
The new compilation offers up many unique and intriguing tracks. Rollers from Cybin and Dave Owen make for a nice opening to the compilation, tying in liquid elements with classic jungle releases and very two-steppable drum breaks. Cybin's "Brixham Jungle Night" is perhaps the deepest and most soulful track on the compilation, showcasing sultry brass samples jazzy piano chords.
Ragga jungle-inspired cuts like Digital's "Light It Up" and "Lorda Mercy" from Terraform bring the pure jungle vibe to the collection. The ragga vocal samples and dancehall vibes provide a lovely return to the 1990s roots of jungle, while keeping things fresh and ready for a 2019 dancefloor all the while. 
Jaybee's "Hostile," Myth's "Crawl," and Freeze's "War Vibe" border on neurofunk, but still maintain a jungle-esque vibe, merging subgenres and providing tracks that would feel just as much at home in a techy club DJ set as they would on a festival's bass stage. Other selections from Neve & Crimson, Madcap, Zere & Gabriel Habit, and label boss Trex offer this same vibe: a blend of styles that perfectly accentuate the heart and soul of jungle music. 
Dawn Raid and Latent Notion opt for more vocal sample-driven works, but the rolling drum breaks and gnarly bass speak for themselves. Latent Notion's "True Dat" features Jewels with dreamy R&B-inspired vocal work that wouldn't be out of place on a roller from the 1990s. 
Trust In Jungle, Vol. 1 is a noteworthy first entry in the compilation series put forth by Trust Audio. Its abundance of style and uniqueness among tracks does not stop the compilation from feeling perfectly tied together. The full tracklist feels as though it could all be used in the same DJ set and still sound seamless. For more casual listening, Trust In Jungle, Vol. 1 is a perfect return to the jungle sound for a drum and bass veteran, and a brilliant introduction to the genre for any newcomers.
Trust In Jungle, Vol. 1 is available via Trust Audio. The compilation mini-mix can be found here.
FOLLOW TRUST AUDIO:
Facebook: facebook.com/trustaudiodnb
Twitter: twitter.com/TrustAudioDnB
Instagram: instagram.com/trustaudiodnb
SoundCloud: soundcloud.com/trustaudiodnb