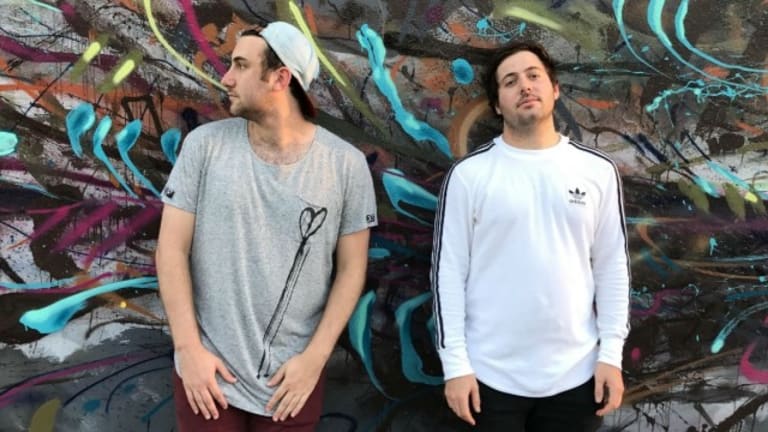 Two Friends Premiere 'Just a Kid' with Support from LA Kids Camp
Two Friends, Matt and Eli, worked with kids at an LA youth camp to create the vocals and video for Just a Kid.
Music has the power to change lives. That's why we love it, that's why we share it, and that's why Matt and Eli from Two Friends wanted to give the gift of music to the kids at Camp Harmony in LA.
Two Friends have made a name for themselves in the past year with multiple viral remixes and several hit singles, including 'Emily' and 'Pacific Coast Highway.' Between festival stops last summer, the guys carved out a week to spend with  of all ages at one of LA's well-known organizations for underserved youth. By the end of the week, with Matt and Eli's guidance, the kids had learned valuable songwriting skills, and recorded the vocals for their latest track, 'Just a Kid,' premiering today on EDM.com. The accompanying video features footage captured during their week with the kids. We caught up with the guys to find out more about their experience volunteering at Camp Harmony.
EDM.com: What made you want to volunteer your time and why did you choose Camp Harmony?
Two Friends: We grew up in Los Angeles together, and this city has given us so much. Ever since we got into music and started Two Friends, we knew we always wanted to do something with LA involving music. We have siblings and friends that have been counselors at Camp Harmony here in Los Angeles, and so we knew how great of an organization it is, but it also made a lot of sense for our specific idea: teaching songwriting workshops to underprivileged kids, and additionally recording their vocals to be featured in one of our songs that might relate to many of them.
Were the lyrics a collaborative effort as well as the vocals?
The two of us actually wrote the lyrics together a couple years ago, so it was mainly recording their vocals. But for each "session" we had with the various groups of campers, we split our time into two. First, we'd teach them about recording equipment, teach them the lyrics, and record their vocals for "Just A Kid". Afterwards, we'd spend the rest of the session writing a new song from scratch with them. They had a ton of fun writing lyrics about activities they had been doing at camp, or characters from scary stories that their counselors had told them, or even about their favorite foods in the cafeteria.
Working with kids all day on anything, especially a recorded piece, is exhausting. What were the most challenging and rewarding aspects of recording a song with the kids?
It was definitely exhausting, but it was so fun and rewarding that you don't even realize how tired you are until you're back at home and ready to pass out before 9pm haha. The biggest challenge was teaching the lyrics, since it's definitely not easy to learn a brand new song for the first time and be expected to repeat back all the words. So we'd kinda just go a phrase or two at a time, and the kids were great. The biggest rewards were just seeing the kids smiling and laughing, and seeing the impact music was having on them- whether during recording, writing their own new songs, or especially when we played back what we had recorded. For a lot of these kids, this may have been the first time they ever got to be part of writing and recording songs, and you could tell that it was a special experience for them (and obviously us too).
Did you always plan on making a recorded, for-release song with the kids or did that idea come after?
I think it was something in the back of our minds from a long time ago- just an idea of like "wouldn't it be cool to record a kids' choir for something?". And then after we wrote Just A Kid, we finally realized this could be the perfect song for that. Of course the title naturally lent itself to that, and all of the themes and messages. And then when we tied in the idea of volunteering at Camp Harmony, it just all came together even more.
You did a great job on that make-shift speaker, why couldn't you bring in your own equipment to use and have to make your own?
Most of our equipment is not very portable cuz it's all wired & connected into our whole studio, but luckily we had some older speakers lying around that were in perfectly good shape, so those ended up being a lot easier to travel with. Add in a few microphones and some make-shift mic stands, plus about a dozen headphones all connected together, and we had ourselves a nice little studio in a cabin in the hills of Malibu haha.
What do you hope the children gained from this experience making music together?
For a lot of the kids, this may have been their first real experience creating music and getting to have their voices recorded to be featured on a song. We hope that we helped sort of introduce them to some of the great things the world of music can offer, or more generally the thrills of being creative. And taking a step back from music, of course we hope that it was a fun activity for the kids that could reinforce bonds between the campers and give them a memory they'll fondly look back on.
Did you form any special relationships with kids specifically interested in music? Or otherwise?
Certain kids definitely showed more interest in music than others, whether it was in sharing their ideas for lyrics or showing off their voices. But really all the kids were very into it and excited to write and record for the first time.
How did you, or would you, encourage underserved kids, who maybe don't have access to much music-making equipment or tools, to pursue their dream and practice?
It's a hard one to answer because everyone's story is different. The one thing that is the same for everyone who wants to create is holding onto the love of music. More practically, I would try to take every opportunity and resource to learn as much as possible. That can be reading about music theory, enrolling in music programs at school if they are available, or watching instructional YouTube videos on what you dream of doing. As long as you hold onto the love of music, eventually some opportunity will come around that you can start working on your dream.
This song is about having to grow up too fast, since many of these kids have to provide for themselves and sometimes siblings from a young age. Did you feel like the kids resonated with the message of the song? How did they show that?
I think many did- most of the kids were very young to the point where the lyrics might resonate a little more later in life. Each one has a different story but I definitely think we all can relate, some to a higher degree, to those moments where you had to grow up faster than you should have.
What was the environment like at Camp Harmony? Are the kids engaged and excited or does it seem like they were forced to be there?
Most of them were very excited! Of course it's not always gonna be 100% excitement 100% of the time, but we really had a great experience and by and large the campers seemed like they were having a great time too- not just in our workshop but throughout the day at their other activities and sports and hanging with their friends and counselors.
What did you perceive as the camp's greatest needs in terms of material things or services?
They are doing remarkable things at Camp Harmony, and we're proud to have such a special group of children and a committed organization as part of this song and experience. I think one of the biggest things is just more volunteers and people helping out so that they can introduce even more new activities and continue to have everything run smoothly for the campers. We're excited to continue supporting Camp Harmony - part of the proceeds from "Just A Kid" (both the song, and the accompanying tour) will be donated back to the camp in order to continue to support musical programming there.
Did this experience change your perspective on or approach to the music you make? How so?
I think one of the biggest things it reinforced was how lucky we are to be in the position we are, where we can do what we love as our career. Seeing the joy that the music workshops brought to these kids- it reminds us of what first made us fall in love with music, and it's often surreal that we do this as a 'job,' something we try to never take for granted. And it definitely also reinforced how extremely fortunate we were growing up, to be able to easily explore new activities and not have to worry about our family's economic situation— on the simplest level, to just be kids all the time. If our music can bring some of that pure joy to our listeners, we're going to feel like we accomplished some of our goals.
Did you encounter any Two Friends duos like yourselves, who seemed to have a special connection and worked well together?
Haha yes of course! Nothing better than seeing a pair of best friends who remind us of ourselves.
Hopefully, the kids in this video will always go back to their experience with the guys at Camp Harmony last summer and remember that anything is possible, no matter what they're going through. And also, to just be a kid.
Follow Two Friends:
W: twofriendsmusic.com
Facebook: facebook.com/twofriendsmusic
Instagram: instagram.com/twofriendsmusic
Twitter: twitter.com/twofriendsmusic
Soundcloud: soundcloud.com/two-friends