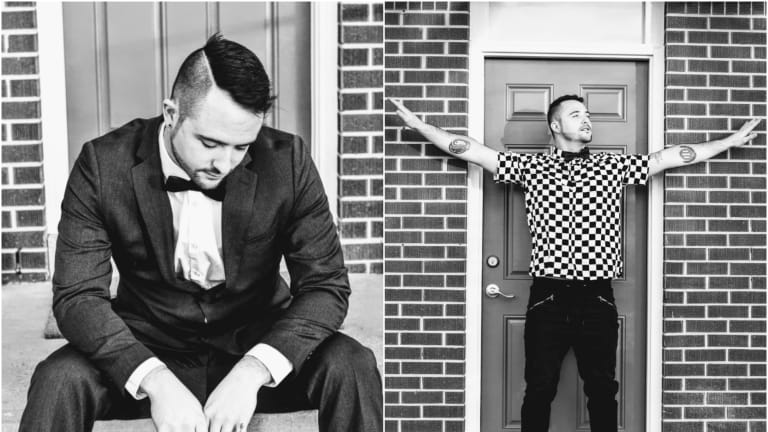 Unlimited Gravity Drops Highly-Anticipated Demigod Pt. 1 EP
Denver native Unlimited Gravity reveals the first part of his long-awaited Demigod EP series.
Following the release of the three singles "Steeze Manifesto," "Retro Dreams," and "Peekaboom," Unlimited Gravity (real name Ronnie Weberg) has released his highly anticipated Demigod (Pt. 1) EP, and what an EP it is. Taking a bold stride forward from his previously released music, Unlimited Gravity returns after stepping away for most of 2018, and the wait was certainly worth it. 
While his sound was always incredibly unique, and his live performances have always been one-of-a-kind, Demigod showcases Unlimited Gravity's renewed focus on his musical career, as well as his increasingly refined and meticulously crafted productions.
While Steeze Manifesto captures the very best of Unlimited Gravity's glitchy and high energy musical aesthetic, "Retro Dreams" showcases Weberg's ability to create deeply cinematic anthems that are both epic and immersive.
On the heavier side of the spectrum, "Peekaboom" is a no-holds-barred onslaught of ferocious bass, driving percussion, and blistering, razor-sharp synths. Shrouded in mystery and overflowing with an unmitigated sonic assault, "Peekaboom" delves into the darker side of the Mile High native's musical stylings.
The remaining two tracks, "Where To Go" and "Unforgettable" are exclusive to the Demigod EP. Like "Steeze Manifesto," "Where To Go" offers listeners a glimpse into the old sounds of Unlimited Gravity. Much refined and highly evolved from his earlier projects, "Where To Go" takes the very best of 2019's advances in production and technology, and injects them into the Glitched-out, bass-heavy aesthetic that Unlimited Gravity has always been known for.
The final track on the release, "Unforgettable" brings Demigod to a massive climax. Grungy and bombastic, "Unforgettable" is a soaring electronic anthem complete with demonic growls, angelic vocals, and an undeniably funky, in-your-face drop. "Unforgettable" isn't just a clever track title, it truly represents that nature of the song itself; once you hear "Unforgettable," you certainly won't be having any trouble remembering.
Stream or Download Unlimited Gravity's Demigod Pt. 1
FOLLOW UNLIMITED GRAVITY:
Facebook: facebook.com/UnlimitedGravityMusic
Instagram: instagram.com/unlimitedgrvty
Twitter: twitter.com/UnlimitedGrvty
Soundcloud: soundcloud.com/unlimitedgravitymusic