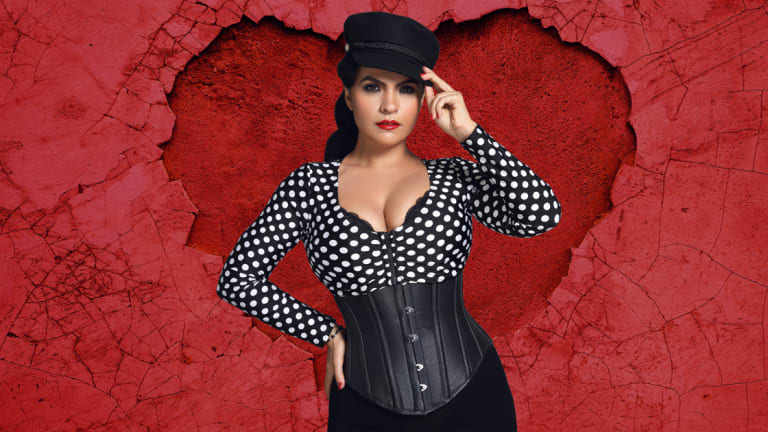 Ahead of Pride Month, VASSY Releases "Concrete Heart" Music Video [Premiere]
Inspired by fearless love, the music video follows two hearts struggling to find that special someone.
Gearing up for Pride next month, multi-platinum award-winning recording artist VASSY will release a music video to accompany her most recent dance track with Disco Fries, "Concrete Heart." EDM.com is proud to premiere the love-inspired visual a day in advance. 
Following the dating struggles of two hearts, the music video does more than tell a story about finding love. A supporter of gender and LGBT equality, the Australian artist spoke with EDM.com about the deeper message behind the uplifting song and it's music video.
EDM.com: What's the concept behind the music video for "Concrete Heart?"
VASSY: "Concrete Heart" is a song I wrote about the desire to fall in love without being vulnerable to getting hurt. I think many people can relate to this sentiment and I wrote it from a place of truth. The music video represents the idea of the freedom to fall in love, taps into the concept of equality, and showcases all of the obstacles we face in life when wanting to find love. 
All of this is depicted through the concrete jungle of New York City and with two main characters who are little hearts. Their storyline conveys the many obstacles they face in the city, but when they almost give up, they find signs of hope that lead to a positive outcome – in this case, falling in love with one another.
I specifically wanted the main characters to be literal hearts and not people. I didn't want it to be super gender specific so that it appeals to all and represents a notion of one love for all. I think the result turned out so cute! The dancing gives another layer and a great juxtaposition against the concrete layers of a big city. Even though things can be tough around you, we can still laugh, dance, and enjoy life while staying true to ourselves - and dancing is a universal language!
What's your favorite part of the music video?
My favorite part of the video is the flash mob dance scene at the end. This was director Jacob Caron's idea and I love it. I think it's iconic being that the dancers are all freely coming together as one to celebrate this feeling of love in front of the Love sculpture in Manhattan. It represents a much larger and beautiful sentiment to me. Everyone has the right to love whoever they want to love.
Going back to the song, what does it mean to you and what's the message you're hoping listeners will take away from it?
I want listeners to feel that in life you have one shot, so go for what you want without any hesitations! I want listeners to feel hopeful about life and not only when it comes to finding love. Do not be afraid to be vulnerable – of course we can all relate to feeling insecure at times – but have faith and be open to the many possibilities in life!
I also wanted to show people that everyone has the right to love and no one can take that away from someone, equal rights for love.
Having performed at Pride events for the past years, are you slated to perform at any this year?
Yes! I am headlining one of my favorite Pride Festivals this summer and I cannot wait! Stay tuned for more details!
What do you have in store for both fans and event goers? I would imagine "Concrete Heart" would be one song you'd most likely perform since it's all about fearless love.
Exactly—you just hit the nail on the head! "Concrete Heart" is about fearless love, taking chances, and having the freedom to love while being hopeful, celebrated, and excited. It really explains a lot in the exploration of the video's storyline. I will be performing "Concrete Heart" alongside more familiar hits of mine like "Bad" and "Secrets." 
From your Pride performances and collaborations with the NOH8 campaign, you're very passionate about gender and LGBT equality. Is there a more personal reason for your support?
I helped one of my best friends come out at the age of 14. He got teased and bullied in junior high school at a time when I wasn't even aware of what gay was then. I just understood it instinctively when he didn't even know it himself! 
There was one specific night when he even tried to bring me home on a date to meet his family and when I left I asked him when he was going to come out to them. He cried and I told him, "Don't worry I will protect you." I did my best to protect him from the cowardly kids who bullied him at school.
I truly want everyone to feel loved no matter how you identify - gay, lesbian, straight, bi, transgender. I want my fans to be accepted and have the right to be happy in life.
What's one piece of advice you'd give to people who might be scared to love again or at all?
You've really got nothing to lose and if you do get hurt remember that rejections are simply re-directions and everything happens for a reason. Trust me that it gets better and you will find better too – so allow yourself to be authentic and true to yourself and your desires – not just in love but in life, too!
Can't wait to celebrate Pride Month? Get the party started with VASSY's latest remix bundle for "Concrete Heart."
Follow VASSY:
Website: vassymusic.com
Facebook: facebook.com/VASSY
Twitter: twitter.com/VASSY
Instagram: @vassy
Soundcloud: soundcloud.com/vassy