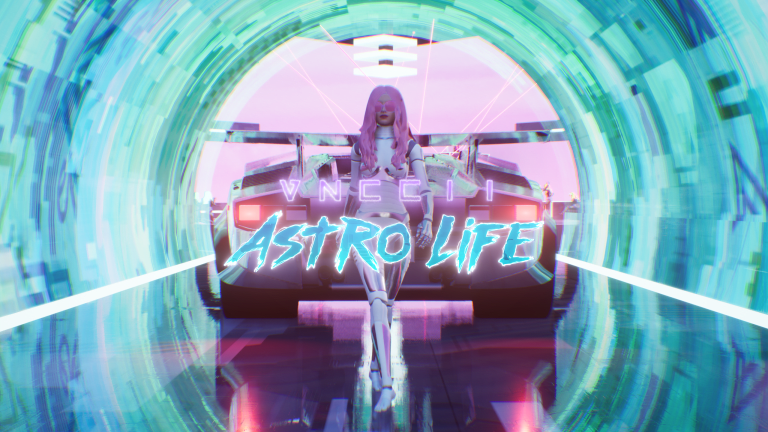 VNCCII's "Astro Life" is what Happens when Humanity and Artificial Intelligence Collide
VNCCII explores a utopian soundscape through the eyes of her 3D robot avatar in her new record and music video, "Astro Life."
Recently emerging from the Australian underground, Sydney-based producer VNCCII is a talented young musician who has painstakingly crafted her brand around the concept of blurring the lines between music, gaming, technology and virtual reality. Developing her image around a 3D cyborg avatar, VNCCII is constantly exploring this grey area, a mission that she seeks to accomplish through the deeply musical and highly diverse adventures of her virtual 3D avatar.
Her most recent song, "Astro Life," follows the release of her debut single, "Citizen A.I," and portrays VNCCII's 3D robot heroine traversing a futuristic, utopian soundscape that is revealed in all its glory in the official "Astro Life" music video - premiered for the first time on EDM.com.

Written, recorded and produced by VNCCII herself and mastered by electronic music virtuoso Shawn Naderi (who has worked with the likes of Flume, Marshmello, Jauz, and What So Not), "Astro Life" is VNCCII's first release to showcase both her striking vocals and her razor-sharp production. A beautiful fusion of skills that further reveals the depth of talent hidden behind her virtual avatar, "Astro Life" marks the beginning of a new and as-yet-untold chapter.
Elaborating on the themes behind her music, VNCCII has said: 
"What I love about music is that you can be whoever you want. There are of course elements that draw on inspiration from my personal life, but it's fun to also create a fantasy or a characterization and even a projection of the future (like an imagineer or futurist). It's really cool to shock and that is why I create art."
Stream or download VNCCII's "Astro Life" on August 9th!
FOLLOW VNCCII
Website: vnccii.com
Facebook: facebook.com/vncciiofficial
Twitter: twitter.com/vnccii_official
Instagram: instagram.com/vnccii_official
Soundcloud: soundcloud.com/vncciiofficial