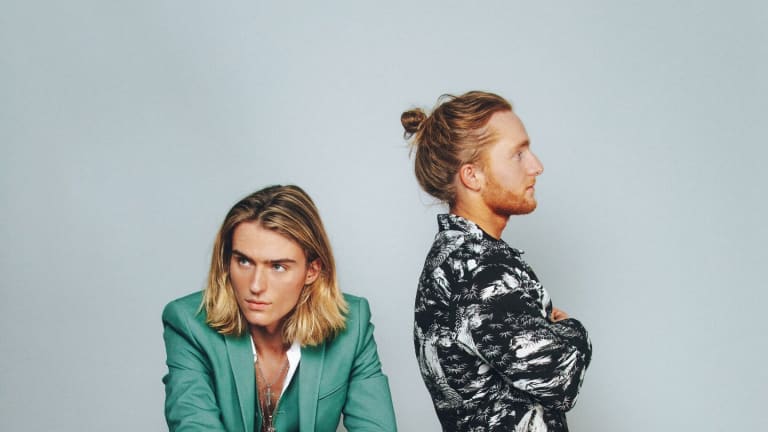 VOILÀ and Lexy Panterra Come Together for Magnetic Single, "Mamacita"
The sensual track is out now via Proximity.
Known for bringing her silky and seductive vocals to a number of summer hits, including Shaun Frank's "Where Do You Go," as well as Harber's "More Than You," the latest track released by the TwerkOut songstress is VOILÀ's "Mamacita," out now on Proximity.
Comprised of Luke Eisner and Gus Ross, the L.A.-based duo have mastered the art of making tropical, exotic-pop music. Eisner, originally from Wisconsin, is a classically trained flamenco guitarist, as well as a "lyricist by nature". The poetic and passionate lyrics heard in each VOILÀ song can be mainly attributed to him, inspired by his fascination with timeless literature. "I strive to include at least one tattoo-able phrase in every song we write," Eisner writes. 
Making up the other half, Ross is a classically trained Jazz vocalist and handles all the technical production. Together, the duo have found common ground in wanting to create authentic and magnetic music, whilst still having complete creative control over their project.
"Mamacita" proves to be another notch in the belt for the dynamic duo. Previous singles from VOILÀ have seen worldwide success, from millions of streams on Spotify, to being supported by the likes of Martin Garrix, Kesha, and The Fray. The duo have even earned success beyond the music industry and into the worlds of modeling and film. Eisner, who regularly maintains a modeling career, is set to play a lead roll in the upcoming Netflix original rom-com, "Tall Girl." Fans can look out for that later this fall, as well as their debut EP set to release later this summer. 
Stream or download VOILA's "Mamacita" featuring Lexy Panterra out now on Proximity.
FOLLOW VOILÀ:
Facebook: facebook.com/wearevoila
Twitter: twitter.com/wearevoila
Instagram: instagram.com/wearevoila
SoundCloud: soundcloud.com/wearevoila
Youtube: youtube.com/channel/UCpHoi3I_CIXSq1iEIGpaA3g
FOLLOW LEXY PANTERRA:
Facebook: facebook.com/LexyPanterraOfficial
Twitter: twitter.com/LexyPanterra
Instagram: instagram.com/lexypanterra
YouTube: youtube.com/channel/UCx5ERAjfcMwu9FCSIiw-eRA
FOLLOW PROXIMITY:
Facebook: facebook.com/proximity
Twitter: twitter.com/proximitym
Instagram: instagram.com/proximity
SoundCloud: soundcloud.com/proximity