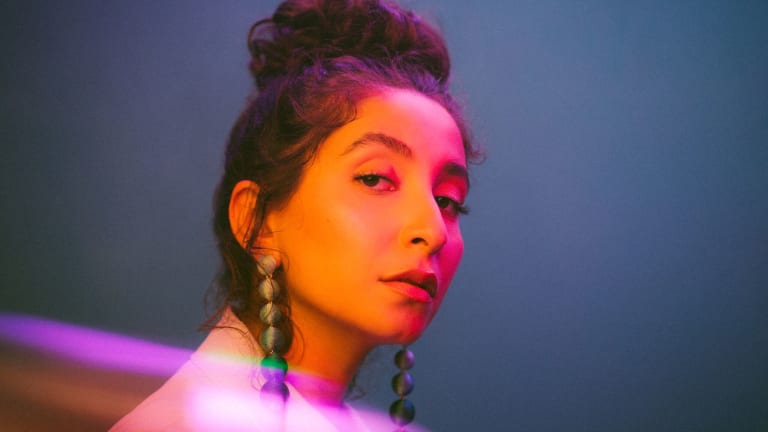 Wafia Returns After Year-Long Hiatus to Unveil Atlantic Record Debut Single, "Hurt" ft. Louis the Child and Whethan
"Hurt" follows-up Louis the Child's RIAA Gold-certified 2018 hit single, "Better Not" featuring Wafia.
While it has been just over a year since fans last heard a new release from singer, songwriter, and multi-instrumentalist, Wafia, her silky vocals can still be heard well into 2019. The wide-spread global influence that she has quickly garnered over the last two years can be attributed to when she first captured the world's attention with her feature on Louis The Child's "Better Not." With over 200 million streams and being RIAA Gold-certified, Wafia's rich and cheery vocals found their way on every major radio station across the world. Following up this massive hit, Wafia has teamed up the electronic duo once again, as well as Whethan, to make her Atlantic Records debut with "Hurt."
Besides creating alternative-pop anthems, Wafia finds meaning in using her position to help empower marginalized communities. Her emotive lyrical power is done purposefully to help women from all backgrounds be able to find themselves, and she deeply feels music is a place where all are welcome. Being a Muslim, queer, Iraqi-Syrian woman herself, she knows first hand about feeling alienated from society and wants to use her influence to help others in similar situations. "Hurt" follows suit with her distinctly personal lyrics with a chorus to which anyone can relate.
"Hurts came together so quickly," says Wafia. "On the day I first met Sarah Aarons and wrote it with her, the session itself went for like 13 hours. But mostly because we were just hanging out, getting to know each other and in between all that, we were writing the song on just keys with Rogét Chahayed." Fans will recall the signature sound of Grammy-nominated producer and pianist Chahayed from his work co-writing "Better Not," as well as Wafia's "I'm Good" and "Only Love." The multi-platinum record producer also worked on Whethan's "Aftertaste" featuring Opia. Wafia continued, "We loved the song and called Whethan that night to come over to the house to lay some ideas down on it. It wasn't till months after that we felt the Louis The Child boys should hop on too." 
The bouncy electro-pop track is joined by an equally stunning official music video. Directed by Chicago-based collective, Weird Life Films, the retro video fits effortlessly with the euphoric tone of the song. "When it came time to film the video it just felt so right to be filming it in Whethan and Louis The Child's hometown of Chicago around my Lollapalooza appearance for 'Better Not,'" Wafia said. "This song to me is such a labor of love between friends and I feel so lucky to get to make music with these incredible people." Stream the official music video here. 
Wafia is currently finishing her highly anticipated EP, which she says will come early to mid next year. Up next for the acclaimed artist, she will be joining Electric Guest on the first half of their upcoming KIN World Tour. Tour dates for her will begin October 28th in Seattle and will continue throughout the month of November. Additionally, for every ticket sold, $1 will go to Stand for Children, which helps underprivileged children receive a quality education. For all ticketing and tour information, visit here. 
Stream or download Wafia's "Hurt" featuring Louis The Child and Whethan out now on Atlantic Records.
FOLLOW WAFIA:
Facebook: facebook.com/wafiamusic
Twitter: twitter.com/wafiaaa
Instagram: instagram.com/wafiaaa
Soundcloud: soundcloud.com/wafia
FOLLOW LOUIS THE CHILD:
Facebook: facebook.com/LouisTheChild/
Twitter: twitter.com/LouisTheChild
Instagram: instagram.com/louisthechild/
Soundcloud: soundcloud.com/louisthechild
FOLLOW WHETHAN:
Facebook: facebook.com/whethanmusic
Instagram: nstagram.com/whethan/
Twitter: twitter.com/whethanmusic
SoundCloud: soundcloud.com/whethan