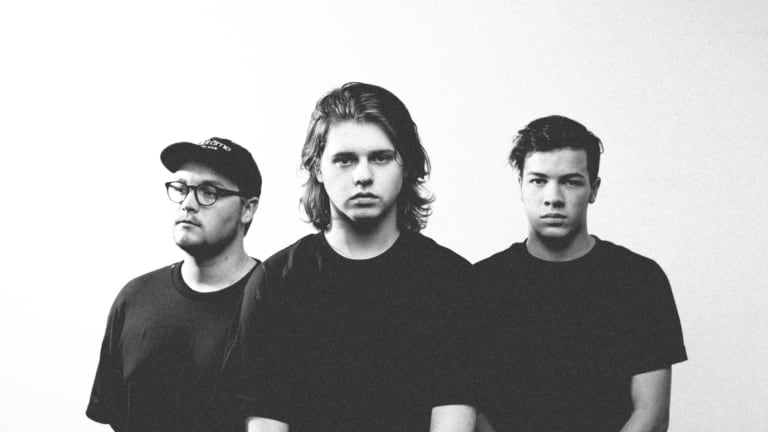 WAVEDASH Drop "Whiplash" Ahead of EP on Gud Vibrations
The dubstep trio isn't showing any signs of slowing down soon.
WAVEDASH have dropped yet another banger on NGHTMRE and SLANDER's recently launched label, Gud Vibrations. The producer-trio, known for their energetic performances and unmistakable sound design, are gearing up for the release their sophomore EP, Opening Ceremony. "Whiplash" is their third single leading up to the release, as well as Gud Vibrations' first release of 2019. 
After Wavedash's last two singles leading up to their EP, the chaotic "Deathwish" featuring fknsyd and wonky "BSTRD" with frequent collaborator QUEST, "Whiplash" makes for yet another strong weapon at their disposal. 
The track showcases variety and unique drops, starting with a synth-driven, atmospheric intro that switches into an 8-bit buildup. The first drop explodes into a riddim-sounding mayhem of drums and synths, enabling the the young producers to perfectly showcase their sound design skills. The craziness continues as a buildup is followed by another screechy drop, and the breakdown that comes quickly leads to a third cataclysm of growls and samples. 
"Whiplash" is a track that underwent more changes than we can even remember," said WAVEDASH in a joint statement. "The end product was something we were hoping would appeal to DJs and listeners alike, and we're really excited with how it came out." 
WAVEDASH burst into the scene in 2016 with the help of Skrillex, having their track "Bang" featured in OWSLA's Worldwide Compilation. They've kept the momentum strong, releasing their debut EP Hundred in 2017 and going on to collaborate with NGHTMRE and Slander - who have played a big role in Wavedash's rise to the forefront over the past year. 
Wavedash's sophomore EP Opening Ceremony is out soon on Gud Vibrations. In the meantime, stream or download "Whiplash" across platforms here.
Follow WAVEDASH:
Facebook: https://www.facebook.com/wearewavedash/
Instagram: https://www.instagram.com/wearewavedash/
Twitter: https://twitter.com/wearewavedash
Soundcloud: https://soundcloud.com/wearewavedash