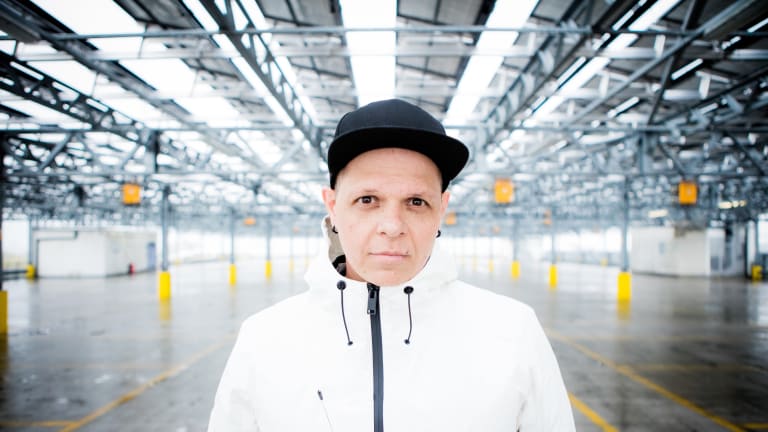 Conrank Drops Long-Awaited Debut Album What's a FKNG Conrank on Circus Records
Journey with Conrank as he answers the age-old question "What's A FKNG Conrank" in a full-bodied, sub-wrecking, 16-track effort.
After over a decade of being one of the most groundbreaking artists in EDM, globe-trotting music veteran Conrank has finally released his highly-anticipated debut album. By and large, it was completely worth the wait.
Years in the making, What's a FKNG Conrank is a powerhouse of bass anthems encapsulating the full range of this talented producer's abilities. Complete with skits, tracks that'll bring you back to the early days of dubstep, an homage to his background in grime, and even a rework of Planet Perfecto's "Bullet in The Gun," What's a FKNG Conrank is a captivating and cohesive look into one of the top minds in bass music. 
Boasting an extensive background in beatboxing, as well as being the former host of the MTV show Indelible Hip Hop, it comes as no surprise Conrank incorporated these hip-hop influences into his album. The effort starts with a humorous message to listeners about the possibilities of "what a Conrank could be." Possibly a roaming wizard or a hermit who "only appears for bowls of noodles," only one thing is for certain: the album embodies the explosive and fierce energy for which he is known. 
The album then moves to "Drum in Time," in which Conrank has found the perfect harmony between heavy and melodic. Driving waves of bass and subtle, trippy production elements throughout flex his diligent and effective production style. Within the first couple minutes of the album, listeners are face to face with Conrank's dynamic sound as the second song begins. Featuring the warm vocals of Charmae, "Wake Up" is a romantic and rich tale of finding a love so deep it feels dreamlike. 
A Circus Records staple to the historic roster, Conrank enlisted fellow Circus brethren Mark the Beast and Dirt Monkey for two tracks off the album. "Level 8," which features Dirt Monkey, mixes together deep, wonky bass with uplifting Pac-Man-esque video game sounds that make for a nostalgic and playful tune. Fans can experience the two live as Conrank will be supporting Dirt Monkey on his Primatology World Tour later this year. For more information, visit here. 
Despite heavy touring over the past 12 months, Conrank has been able to produce arguably one of the cleanest and most diverse albums of 2019 thus far. What's a FKNG Conrank goes on to feature artists from around the world such as Japan's ONJUICY, British MCs Patwan and Illaman, Southern California's DREZZA, as well as Brooklyn-based Space Jesus. 
Stream or download Conrank's debut album What's a FKNG Conrank, out now on Circus Records. 
FOLLOW CONRANK:
Website: conrank.uk
Facebook: facebook.com/CONRANK
Twitter: twitter.com/conrank
SoundCloud: soundcloud.com/conrank
Instagram: instagram.com/conrank
FOLLOW CIRCUS RECORDS:
Facebook: facebook.com/circusrecords
Twitter: twitter.com/circus_records
SoundCloud: soundcloud.com/circusrecords
Instagram: instagram.com/circusrecords