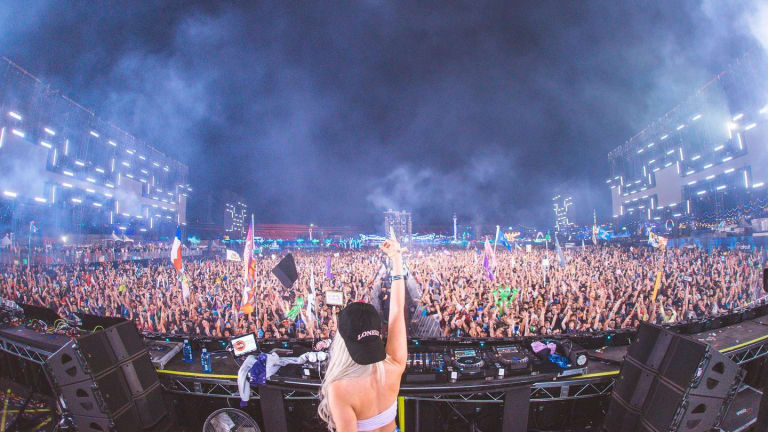 Whipped Cream Kicks it Up a Notch for Massive EDC Las Vegas circuitGROUNDS Performance
Whipped Cream's rowdy and highly sought-after EDC Las Vegas 2019 set is available in full on Beats 1/Apple Music.
Whipped Cream (real name Caroline Cecil) is a Canadian-born, Los Angeles-based producer who has been passionately plugging away at creating her own delicious form of filthy, heavy, hard-hitting bass music for over five years now. While growth is often slow and steady at first, Cecil has enjoyed an absolutely explosive rise to fame over the last two years. She's already performed at many noteworthy festivals such as Shambhala, EDC México, and Ultra Music Festival, and this summer she's set to crush stages at major marquis events such as Bonnaroo, Lollapalooza and Electric Zoo. 
Most recently, Whipped Cream played what was by far her biggest performance to date, closing out the legendary circuitGROUNDS stage at the Las Vegas iteration of 2019's Electric Daisy Carnival. 
Not only was her closing circuitGROUNDs sunrise set a major milestone in her career, it was also a leading fan favorite from the weekend, as clearly demonstrated by the hordes of rabid fans begging for the digital release of her full set recording. In the worlds of her co-manager Will Runzel of Prodigy Artists, "The first time I saw Caroline perform, I knew I was in the presence of a generational talent. She is arguably one of the best live DJ's I have ever seen…"
This sentiment has been echoed repeatedly since EDC took place last weekend, and we're very pleased to announce that her full set is now available, exclusively on Beats 1/Apple Music; you can also check out the full setlist below.
If you're new to Whipped Cream, you should also check out her monster remix of Zhu's "Desert Woman," out now on his Mind of a Genius imprint.
FOLLOW WHIPPED CREAM:
Facebook: facebook.com/whippedcreammusic
Twitter: twitter.com/WHIPPEDCREAM
Instagram: instagram.com/whippedcream