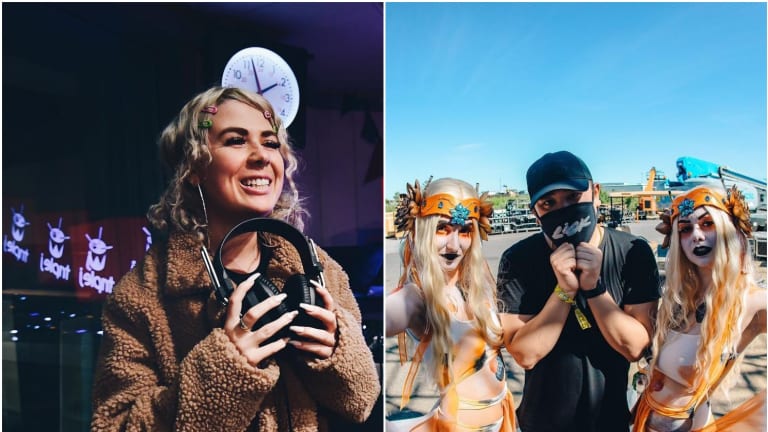 WHIPPED CREAM and Lick Release Dark and Moody Bass Anthem "The Greatest" on Deadbeats
WHIPPED CREAM and Lick have returned to Zeds Dead's Deadbeats imprint for the haunting tribal bass masterpiece "The Greatest."
A triumphant return to Zeds Deads' Deadbeats imprint for both Vancouver Island-based producer WHIPPED CREAM (real name Caroline Cecil) and Los Angeles midtempo mastermind LICK, "The Greatest" marks the beginning of a new chapter for these rising stars of bass music.
Showcasing the furious sub-bass assault for which both LICK and WHIPPED CREAM are known, "The Greatest" incorporates a variety of distinct musical elements that transcend the genres and styles in which each producer specialize. Blending thick and ominous bass with a fiery midtempo bounce and thumping, tribal percussion, "The Greatest" is a festival-ready bass music anthem just waiting to be unleashed upon masses of relentless, headbanging fans.
Stream or Download Whipped Cream & LICK's "The Greatest" today.

WHIPPED CREAM Tour Dates:
• July 5 - Boney - Melbourne, Australia
• July 6 - Coco, The Met - Brisbane, Australia
• July 12 - Electric Circus - Adelaide, Australia
• July 13 - Civic Underground - Sydney, Australia
• July 19 - Camp Bisco - Scranton, PA
• July 20-21 - Mad Decent Block Party Festival - Foxborough, MA
• July 26 - Tomorrowland - Boom, Belgium
• July 26 - Bootshaus - Cologne, Germany
• August 3 - Lollapalooza - Chicago, IL
• August 3-4 - VELD Music Festival - Toronto, Canada
• August 10 - Ilesoniq - Montreal, Canada
• August 10-11 - Moonrise Festival - Baltimore, MD
• August 16-17 - 515 Alive Music Festival - Des Moines, IA
• August 17 - Las Vegas Event Center - Las Vegas, NV
• September 1 - Electric Zoo - New York, NY
• September 27-29 - Lost Lands - Thornville, OH
• October 25-27 - Voodoo Festival - New Orleans, LA
LICK Tour Dates:
• July 13 - Audiotistic - San Francisco, CA
• August 3 - HARD Summer - Los Angeles, CA
• August 4 - Chasing Summer Festival - Calgary, Canada
• August 9 - Ilesoniq Festival - Montreal, Canada
• August 17 - Das Energi - Salt Lake City, UT
• August 30 - Electric Zoo - New York City, NY
• September 5 - Dancefestopia - Kansas City, KS
• September 13 - Nocturnal Wonderland - San Bernandino, CA
• September 28 - Wamu Theatre - Seattle, WA
• October 26 - Freaky Deaky - Houston, TX
FOLLOW LICK:
Facebook: facebook.com/iamlick
Twitter: twitter.com/IAMLICKx
Instagram: instagram.com/iamlick
SoundCloud: soundcloud.com/iamlick
FOLLOW WHIPPED CREAM:
Facebook: facebook.com/whippedcreammusic
Instagram: twitter.com/WHIPPEDCREAM
Twitter: instagram.com/WHIPPEDCREAM
Soundcloud: soundcloud.com/whippedcream