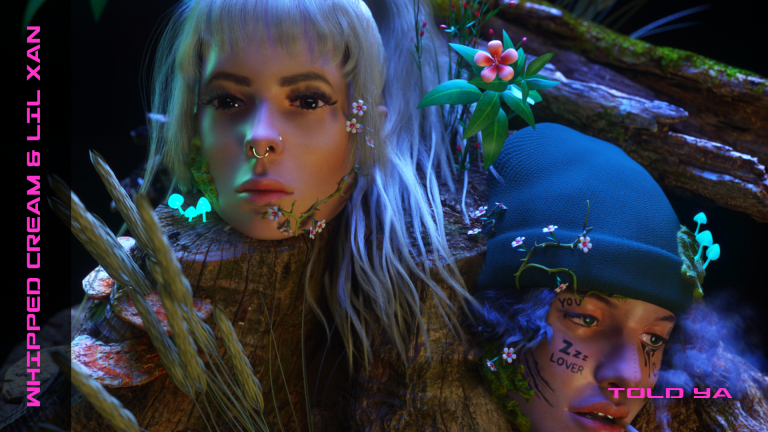 Whipped Cream Brings in Notorious Rapper Lil Xan on "Told Ya"
Whipped Cream teamed up with "Betrayed" rapper Lil Xan for a hip-hop-infused bass heater titled "Told Ya."
Arriving by the way of Big Beat Records comes the latest single from the emerging queen of bass music, Whipped Cream. Her new collaboration alongside infamous rapper Lil Xan goes by the title "Told Ya."
Clocking in at just under two minutes, "Told Ya" is a genre-defiant hip-hop and bass music blend about the confidence that comes with "making it" in the industry. The track features addictive, trap-heavy percussion and free-flowing bars making for a tune sure to hit the charts. California native Lil Xan is no stranger to the limelight with over three million monthly listeners on Spotify alone, as well as having his summer 2017 single "Betrayed" reach over 400 million streams. Fans may also recognize the name from his 2018 debacle that left him in the hospital for "eating too many Hot Cheetos."
On the other hand, Whipped Cream (real name Caroline Cecil) has been on a steady rise releasing timely singles as she continues to make her mark on the music industry. The hardworking producer has noted that she has spent most of 2019 in the studio, leading her to be featured as one of Billboard Dance's "One to Watch," as well as one of Mixmag's "Most Exciting New Names in Bass Music."
An official music video has also released alongside the single. The music video features visuals from world-renowned Swedish 3D artist, Josefine Jonsson, better known under the name Pastelae. Work done by Jonsson can also be seen on the album artwork for "Told Ya."
Stream or download Whipped Cream and Lil Xan's "Told Ya," out now on Big Beat Records.
FOLLOW WHIPPED CREAM:
Facebook: facebook.com/whippedcreammusic
Twitter: twitter.com/WHIPPEDCREAM
Instagram: instagram.com/WHIPPEDCREAM
Soundcloud: soundcloud.com/whippedcream
FOLLOW LIL XAN:
Facebook: facebook.com/lilxanfuhyobih
Twitter: twitter.com/lilxanfuhyobih
Instagram: instagram.com/xanxiety
Soundcloud: soundcloud.com/lil_xan