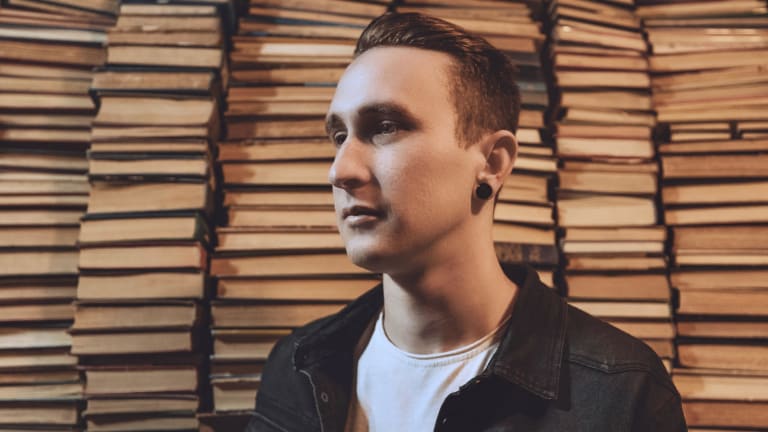 [INTERVIEW] William Black Shares Deeply Vulnerable Life Story In Debut "Pages" LP
The long-awaited debut album from William Black is out now on Trap Nation's Lowly
After dropping three excellent singles before the release of his full-length LP, William Black has finally released his deeply emotive, highly-anticipated debut album, Pages on Trap Nation's Lowly imprint.
Known for his fearless approach to writing and his willingness to take on the most sensitive of topics, William Black has created a signature sound based on raw, passionate lyrics, contrasting, vibrant melodies, and richly cinematic production. His instantly recognizable sound has amassed him a loyal fanbase of nearly 400,000 monthly listeners on Spotify alone, and has earned him the ongoing support (not to mention tour placement) from fellow melodic bass masterminds like Illenium, Said The Sky, Adventure Club and Dabin. 
About William Black's Pages LP:
With his Pages LP, William Black has decided to use that rapidly expanding sphere of influence to spread a vital and deeply moving message to fans around the world.
This concept of not feeling alone is something that Black focuses on in nearly all of his music, and which is often a key topic of conversation when speaking about depression and mental health. Through his own personal experiences with depression, Black knows how first-hand important having a strong support structure is 
"If I'm feeling down on myself, the first thing I do is talk to my friends… I've built a circle of real friends who actually care about my wellbeing; I can always call them and say this is how I feel… I think the most dangerous thing is internalizing rather than taking about how you feel. It's really important not to get caught up in the idea it's not ok to talk about your feelings."
While many artists [and people in general] shy away from allowing themselves to be vulnerable, this is where William Black truly excels. Not only does he infuse his own personal struggles and triumphs into each and every piece of music he creates, but he also strives to do so in a way that his fans can relate to, and find comfort in.
"I think one of my biggest strengths is that I don't have any issue writing music about things that are taboo. I only write music about things I'm going through or have gone through, I don't ever second guess the theme or feeling behind a song. I try to be as honest and authentic as possible."
Featuring six guest vocalists across the LP, "the vocalists featured on the tracks have each had their own powerful experiences in struggling with mental health," says Black. The project serves as an important reminder to listeners everywhere that others have walked down a similar road. It is this goal of relatability through vulnerable and authentic storytelling that led to the creation of the Pages LP.
"I wanted to have a body of work that tells a story, from the first song to the last song. My idea was to write an album where each song represents a different page out of the book that is the story of my life - that's why I called it Pages… I didn't really plan out what the pages would be, they kind of just came to me.

A lot of my songs in the past have been sad breakup songs.. I didn't want the album to just be that. There's one song on there that sounds like it's like a love song, like a sad 'I miss you' type vibe, but the whole thing is actually about drugs and my relationship with then when I was using…. I want to post something that outlines what every song that's about, something that people can reference and understand."
William Black's page-by-page song breakdown:
Pages (Intro) – "I just wanted to set the mood for what this album is about from my perspective. It's happy even though a lot of the content is sad because I'm happy for what I've been through and get to share with you all."


Ruins – "Since I was young I have had an ongoing struggle with depression and not feeling good enough despite all the good around me. It set the stage for decisions I've made throughout my life."


I'm Fine - "I often pretend I'm doing really well to those around me even though on the inside I feel truly terrible. There is a certain delusion with addiction that says everything is ok even though it's not."


Dying Day - "Before I got sober I reached this point where I had a true love/hate relationship with drugs. Dying Day is about the decision to keep returning to something I kind of knew that I no longer wanted."


Never Be The Same – "In the late days of my active addiction I had an ongoing feeling that I couldn't go on living this way any longer. This is a prayer for anything to change so that maybe something could be better."


I'm Sorry (Interlude) – "Past the pain I caused myself, I had deep shame for how I treated my family and the people I loved."


Drown The Sky – "In the final moments of my using I was finally ready to make a change. Drown The Sky is about that one moment after reaching bottom where I was ready to take a chance on really living life."


Back Together – "After a lifetime of self-loathing and confusion I had to learn to love myself, despite everything I'd been through and done. It's about the steps I had to take to reach that place."


Deep Blue – "I reached a place where I realized I was worthy of love and happiness. This song is about the first time I met that person I was able to be honest and vulnerable with."


Miss It - "Reminiscing on someone you loved and missing them, It didn't work out but you're glad it happened. For me, this is about my past. There are times I do miss the fun I used to have, but I don't miss the insanity or harm it did. I am grateful for all I've been through because it's given me all I have now, which I'm lucky enough to share with you all."
William Black on "Drown The Sky":
In his most recent single (as well as his favorite track from the EP) "Drown the Sky," Black opens up about struggling with addiction. 
It was this life-changing revelation that led to much of what William Black stands for today, and it is for this reason that "Drown The Sky" track was chosen as the stand-out single, not to mention Black's favorite song from the LP. 
"…I'd have to say "Drown The Sky," is my favorite, that song sparked the whole idea for the album. RØRY [who is also Gareth Emery's sister] sent me the vocal for 'Drown The Sky' and was like, 'Hey, I dunno if you're gonna like this, cause it's about drug addiction and getting sober.' I hit her up right away and was like... I've been sober for six years and you have no idea how much I relate to this. I couldn't have written it any better myself, it was totally crazy, insane even. I knew exactly what I wanted to do with it right when I heard it, and ended up writing the song in a couple of days."
Black's latest single also received an official music video, which tells the tale of being transported into a fantasy world. 
The album also features vocals from household names such as guest vocalists Nevve and Micah Martin. RUNN, Monika Santucci, and prettyheartbreak also make appearances on Pages. 
Stream or Download William Black's PAGES LP out now via Lowly. 
For fans wanting to experience Pages live, William Black will be playing as support on Illenium's Fall 2019 Ascend Tour, which includes several dates across the United States. For all ticketing and tour information, visit here. 
FOLLOW WILLIAM BLACK:
Facebook: facebook.com/itswilliamblack
Twitter: twitter.com/itswilliamblack
Instagram: instagram.com/williamblack
SoundCloud: soundcloud.com/williamblack
FOLLOW LOWLY:
Facebook: facebook.com/LowlyPalace
Twitter: twitter.com/lowlypalace
Instagram: instagram.com/lowly
SoundCloud: soundcloud.com/lowlypalace