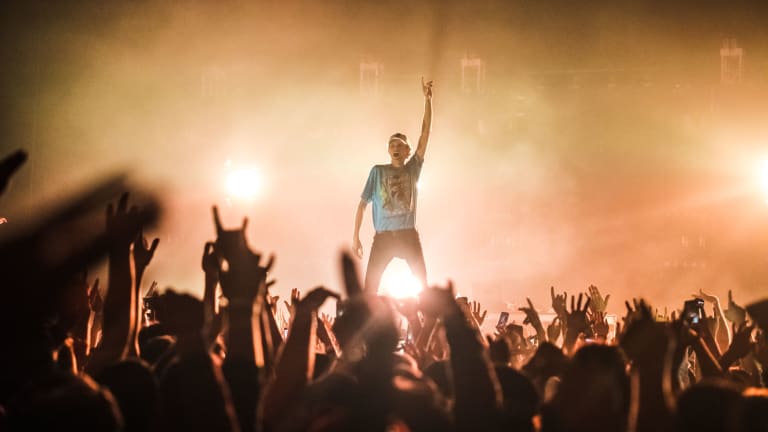 Word of Mouth: Louis The Child and Whethan Drop Collaborative EP, Zeds Dead Teams Up With Ganja White Knight & More
Catch up on the music you might have missed!
Welcome back to Word of Mouth, where we bring you the best of dance music this week. EDM is no stranger to collaborative tracks, and this week is full of them! Let's take a look at what some of our favorites have brought to our ears.
Honey - Louis The Child and Whethan
Louis The Child and Whethan have dropped what looks to be one of the most invigorating projects of the year. The former has been unstoppable since their hit "It's Strange" graced our ears in 2016. The latter has followed a similar road to success, blowing up with his single "Can't Hide" and going on to collaborate with the legendary Flux Pavillion since. Honey is a sweet, instrumental endeavor that highlights their diverse and talented production skills.
Skat Men - A-Trak and YehMe2
Since his departure of Flosstradamus, Josh Young has been making moves. His solo project, YehMe2, has seen success with exciting remixes of "Both" by Gucci Mane, "Deserve" by Kris Wu, and "A Different Way" by DJ Snake. A-Trak, on the other hand, hasn't been anything short of a success story since the beginning of his long career. While his 2018 has been quiet so far, this is surely a great start. Skat Men is a playful EP that's sure to get fans ramped up for their joint tour.
German Engineering - Virtual Riot
Oh man, this one's a doozy. Virtual Riot rip roaring EP, German Engineering, is a refreshing taste of absolute filth. He's never failed to stay on top of the game, most recently collaborating with Datsik for their banging track "Warriors Of The Night". Virtual Riot has also managed to sneak his softer side into this EP, so those familiar with his tunes "Everyday" and "In My Head" will get a kick out of "The Darkest Night".
Samurai - Zeds Dead and Ganja White Night
Bass music titans Zeds Dead and Ganja White Night have teamed up for a delightfully wobbly track. Since joining Zeds Dead on their Deadbeats Tour, Ganja White Night has been taking it easy. Zeds Dead, however, have continued their onslaught of killer tunes since the release of the Northern Lights album. Collaborating with Jauz, Diskord, and Illenium, the duo can't stop bringing us monster joint-projects. "Samurai" may start off as something to vibe out to, but once the drop hits no one's neck is safe.
I Can't Escape feat. Feli Ferraro - SLANDER and Say My Name
SLANDER ended 2017 with a bang, dropping quite a few tracks in a quick succession including their EP with Kayzo, Dilapidation Celebration and "Welcome To The Fire" with Sullivan King. Say My Name has had a busy touring schedule as of late but managed to pump out his hit "Drop It" late in 2017. Now, they've finally unleashed their long-awaited collaboration, "I Can't Escape" featuring Feli Ferraro's enchanting vocals. The track is everything we could have wanted from such a monster collaboration, combining both of their signature trap sounds to create a heater.
WORK 9000 - Paper Diamond
After two years, Paper Diamond has made his return. Before his hiatus, he had dropped his melodic "Towers" instrumental, as well as his vibey "Gotta Wake Up". Prior to that, he had also released a fire collaboration with LOUDPVCK, entitled "WYLIN". His return has been a long time coming, and "WORK 9000" was the best way to come back on to the scene hot. Keep an eye out for Paper Diamond in 2018, he might just be here to stay.
Venom - FANGS
Once you get your first dose of FANGS, you'll be craving more. Formerly a member of the now disbanded group, Brass Knuckles, the talented producer been on the up-and-up since the release of his first single, "Murder". Soon after, he was given the opportunity to sign with Ben Hogan of Circle Talent Agency who also represents SLANDER and NGHTMRE. "Venom" infects you with its toxic vocal right from the get-go, and keeps the listener pulled in with its entrancing house beat. Watch out for FANGS in 2018!
Surrender feat. Foux - Darude and Ashley Wallbridge
Legendary DJ/producer Darude is back with an absolutely killer new tune. Known for his multi-platinum hit, "Sandstorm", Darude has become one of dance music's most notable icons. "Surrender" is a track tune that's been blessed with the sultry vocals of Ashley Wallbridge. It's been awhile since we've heard from Darude, so hopefully new tunes is a continuous trend for the Finnish legend.
Lee - MOGUAI and Zonderling
MOGUAI and Zonderling have teamed up for quite the groovy tune. For over two decades, MOGUAI has been able to keep himself relevant and help guide the course of dance music. Zonderling is looking to leave just as big of a mark, as the duo comprised of Noisia's Martijn van Sonderen and DJ Jaap has seen major success with tunes like their single "Crazy" with Lost Frequencies. Released via Heldeep, MOGUAI and Zonderling have conjured up a future house hit that'll sure keep everyone on the dance floor moving.