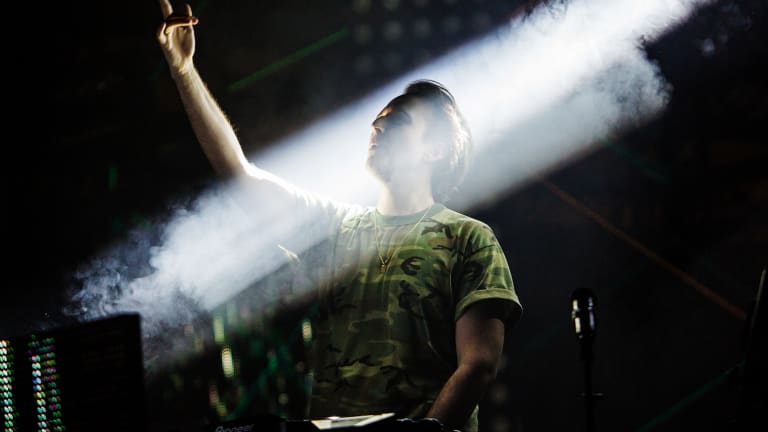 Word of Mouth: RL Grime Drops Beautiful Single, Valentino Khan Returns With Catchy Heater, and More!
The latest and greatest from your favorite dance music artist.
Welcome back to Word of Mouth, where we bring you the best tunes dropped this week. With the amount of talent dropping new tunes this week, it's impossible to keep track of all the jams. Luckily, we're bringing you the hottest tunes right before your St. Patricks Day parties. Let's take a look!
RL Grime - I Wanna Know feat. Daya
As we wait for RL Grime's sophomore album to drop, each tune only gets us more and more excited. After the release of "Era" in late 2017, we had to assume the rest of the album would be tracks we'd be bumping for the months to come. Truly, he's delivered with his latest endeavour. "I Wanna Know" is a future bass hit that features the stellar vocals of talented singer/songwriter Daya.
Valentino Khan - Lick It
Without a doubt, Valentino Khan knows how to write anthems. His 2015 hit, "Deep Down Low", is still a staple for many artists. "Pump", which dropped in 2017, will continue to see plenty of love for the years to come. Now, "Lick It" is his latest anthem in his series of catchy house tunes. With a catchy instructional vocal, Valentino Khan has constructed another heater that we'll be rinsing all weekend.
Tchami x Malaa - Kurupt
Tchami and Malaa have teamed up yet again for another tasty CONFESSION release. Last year, their back to back tour took the U.S. by storm, blowing venues away with insane stage production and intoxicating house beats. They also dropped "Summer 99" and "The Sermon", two collaborations that no one was prepared for. Back with yet another, "Kurupt" will keep the dance floor grooving till the break of dawn. 
Niko The Kid - Thinkin' Bout You
Niko The Kid has had a prolific career in a short amount of time. With official remixes for huge names in like Ceelo Green, Tinashe, Nicki Minaj, and Yo Gotti, the young talent has only begun to shine. Bringing it back to the days of disco, Niko The Kid's nostalgic and addictive "Thinkin' Bout You" will keep crowds moving deep into the night with powerful horns and Tia Simone's soulful vocal feature.
VASSY - Somebody New feat. Sultan + Shepard
VASSY has returned for yet another anthem that'll be found in DJ sets far and wide. In the past, she's contributed to massive songs such as "Secrets" by Tiësto and KSHMR. Now, she's teamed up with Grammy-nominees Sultan + Shepard for "Somebody New". Killing the vocals yet again, this tune will surely throw listeners into a trace from start to finish.
FANGS - Bones feat. Emma Zander
Back once again with another killer single, FANGS is ready to make his mark in 2018. Last year, he came onto the scene with his tune "Murder". This past February, he killed it once again with his single "Venom". His latest tune, "Bones", features the sultry vocals of Emma Zander and a beat that we can't get enough of! Don't sleep on FANGS.
Claptone - Stay The Night
Claptone is gearing up to release an album this summer, but not without teasing us a bit first. Partnering up with London-based duo TENDER, Claptone has produced a dark track that tells the tale of a new relationship. If his sophomore album has more hits like "Stay The Night", Claptone's year will be unmatchable.
The Night - Different Story
Earlier this week, NERO made quite the buzz by dropping the curtain on a new side-project. Today, they've unleashed a monster single. The Night consists of NERO's Daniel Stephens and Alana Watson. With a clear vision, they're free to explore a new world. "Different Story" is something NERO fans would never expect, but should definitely check out.
SNBRN - U Want It EP
If you're not jammin' to SNBRN yet, you're missing out. Known for his hits "Gangsta Walk" and "Raindrops", SNBRN has never failed to impress his fans and gather more with each release. His latest EP, U Want It, will surely continue that trend. Featuring his signature sound from start to finish, SNBRN will be bumping these throughout his upcoming tour schedule.