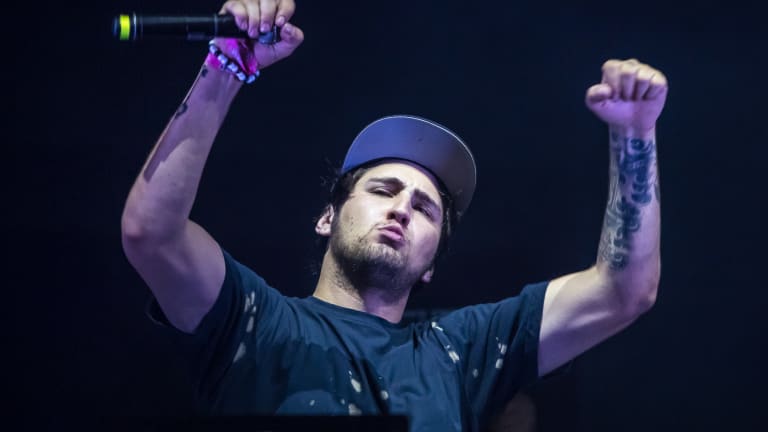 Word of Mouth: Jauz Drops Long Awaited Single, Diplo Drops New Album, and More This Week
Fresh dance music releases for your listening pleasure.
Welcome back to Word of Mouth, where the latest and greatest dance music tunes are featured weekly. To tie-up Miami Music Week, we've brought to you the best from the best. Sit back, relax, and jam out to your favorite artist's latest tracks.
Jauz - In The Zone feat. Example
Jauz is truly unstoppable. After unleashing a massive EP last year, collaborating with the legendary duo Zeds Dead, and kicking off his own label, he's dropped a heater we've all been waiting for. Grabbing listeners attention with an intoxicating beat, "In The Zone" is another addictive tune that we've all been craving from Jauz. 
4B & Teez - Whistle
Jersey club king 4B is back with yet another heater. Last month, he impressed us all with his tune "Drown". He's also been one of the most impressive additions to Kayzo's Overload Tour. For his latest track, he's partnered with Teez for the first release on DJ Snakes new label, Premiere Classe. "Whistle" will have clubs jumping up and down till the sun comes up.
Felix Cartal - Walking By
Yet another jam from up-and-comer Felix Cartal. Awarded the Juno Award for Producer of the Year and Dance Recording of the Year in 2017, the talented producer hasn't failed to impress with his elegant tracks that keep the floor moving. "Walk By" follows this trend, with a beat that'll surely keep folks dancing and a vocal feature from Iselin Solheim that gets listeners emotions flowing.
Max Styler & TWERL - Wasted Time
Talented young producer Max Styler returns with another banger, and this time he's teamed up with TWERL. Signing with Dim Mak at only 18, Max Styler has shown us since the beginning of his career that he's capable of producing at a high level. "Wasted Time" includes the shimmering vocals of EVAN GIIA layered over the shining synths, giving the track an intense, emotional feeling.
Trinix - Last Minute
French duo Trinix is no stranger to beautifully moving music, and they've come back with yet another tune that has us feeling some type of way. "Last Minute" takes listeners on an emotional journey with an enthralling piano lead, warm vocal, and a drum beat that'll have anyone swaying back and forth. Keep an eye on Trinix, they're on the come up.
Diplo - California
Throughout his entire career, each of Diplo's projects has been groundbreaking and game-changing. From the hits he's created as part of Major Lazer to his legendary collaborative project with Skrillex, Jack Ü, he's never failed to come out as one of the top dogs in the industry. California continues this trend, as Diplo has collaborated with the likes of Trippie Red, Lil Xan, DRAM, and more to create his most interesting project yet.
The Funk Hunters - Typecast
The Funk Hunters have finally dropped their debut album, and it's everything fans could have asked for. Typecast includes both singles the duo dropped earlier in the year, as well as collaborations with Leo Napier, Liinks, Paul Brenning, and a plethora of others. Truly, The Funk Hunters have found their sound and are ready to keep us grooving this coming festival season.
Madeaux - Burn
Madeaux's debut album has arrived. The LA-based producer has brought was he describes as a "self-actualization instruction manual" to the game, taking us on a transformational journey with the help of talented acts like Josh Pan, Holly, FiFi Rong, Brux, and a multitude of others. Without a doubt, Burn is one of the most interesting bodies of work coming from the dance music world in 2018.