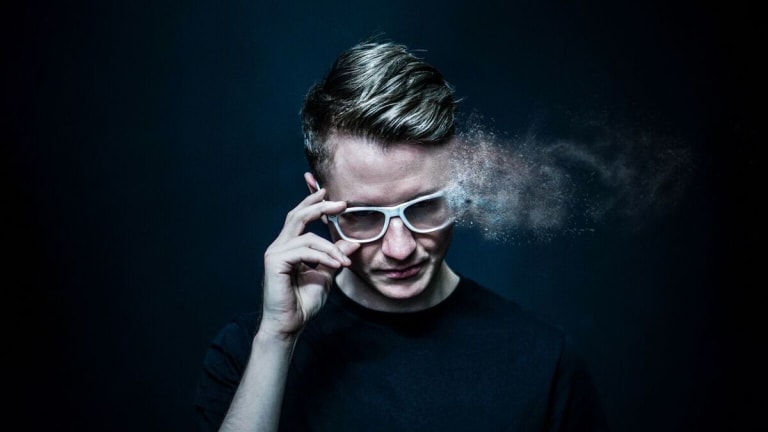 Xilent's New Album, We Are Dust, Paints an Incredible, Post-Apocalyptic Picture
His sophomore album hits hard, both in production and narrative.
His sophomore album hits hard, both in production and narrative.
Fans have long awaited a new album from Polish producer Xilent. That wait is now over. Following up 2015's We Are Virtual, and beyond a slew of impressive singles and collaborations with the likes of Seven Lions and Razihel, Xilent has finally released his sophomore album, We Are Dust, on Monstercat.
His new work is all over the place - in a good way. The complex and intricate sound design for which Xilent is so well-known has been taken to a whole new level (how is that even possible?). Spanning everything from melodic dubstep to riddim to psytrance, elements of many genres are expertly blended together to yield an album that might just warrant Xilent being named as a genre all his own. 
The story of the album is just as interesting as the impeccable productions comprising it, however.
We Are Dust's narrative is extremely post-apocalyptic. Could this be a continuation of the world of We Are Virtual? It seems as though the thriving real (not the virtual) world that the listener would imagine from Xilent's first album has now been reduced to ruins, and humanity has fallen to machines after being plugged into the virtual world for too long a la The Matrix. 
After asking, "Do you remember how it started?" a tape begins playing and the voice in the intro explains a corporation that may have taken over the real world. This voice declares that life is all just particles floating around through space, colliding, having experiences, and then being reduced to particles again. 
"You Rise," the first single released from We Are Dust (though the album was not officially announced until after the singles were released), takes an epic and hard approach to opening the album and presumably illustrating the rise of the surviving humans in the story. "Start over," "you rise," and "hello darkness" are repeated over the gritty bass lines and incredible synth work, indicating that humanity might have just a bit of a chance left.
The next track, "Blue Shadows," provides another impressive vocal showcase before going into an almost hybrid trap style drop. The experimental flavor is incredibly effective, and will leave listeners and fellow producers alike questioning exactly what ingredients go into the Xilent sound design recipe. Contributing to the narrative, the song reveals that humanity has been in hiding in darkness to avoid the machine overlords, who may not know that humans have actually survived. "Come out of the shadows," the lyrics urge, signifying it may be time to rise up against the opposition. 
"The Darkness"was also released earlier this year, and showcases Xilent's ability to switch from melodic and vocal-focused sections into crushing, glitchy bass parts. "My shadows, they follow you like an accomplice" may indicate that humanity is now banding together and considering making themselves known to the machines. 
Following "The Darkness" comes "Code Blood," another energetic and robust dubstep offering. This track will undoubtedly be setting the crowd off during DJ sets. Moving back to the story of the album however, this may be the point where a weakened and defeated human race is now getting its lifeblood, or energy back, and fighting the machines in the real world. "Let it run through your blood, stream through your veins, speak to your soul" indicates that the humans are feeling human again.
But, after a tape-stop, we hear "Interluden." Does that tape-stop indicate that all of this has already happened in the past? Has the human uprising been thwarted, and only a memory of it remains? "This world has grown colder" and "this is who we are" are often repeated throughout the interlude. Humanity has seemingly been all but extinguished, reduced to dust, and the world's identity is now a cold and dark place inhabited only by the machines that the humans created. But alas, hope for humanity hasn't completely faded.
This is evidenced on "Human Error," the extremely heavy and rhythmic sound designer's delight of a dubstep tune following the interlude. In the narrative, a robotic voice that seems to be examining a neutralized specimen declares in shock, "They're nothing but dust now" upon learning that the dead specimens it has been analyzing are indeed human. Disgusted, the machines discard another "neutralized" body, and enter "sleep mode". 
After the body from "Human Error" is discarded, we hear a very human voice whisper, "I'm still here." This leads directly into "Discarded", in which it seems some of humanity may have still survived. "I'm your target", says this unknown human after "shedding" his skin, symbolizing some sort of human rebirth. Perhaps the remaining humans are now fighting the machines in the real world, and this time winning? "Eat my dust, get discarded", the human tells the machines. Effective samples and incredible, energetic sound design almost perfectly illustrate a battle between man and metal. 
The impressive "Only Now" states that "there is no past, there is no future, only now". Punchy percussion and a high tempo provide maximum vitality to this track, showing that Xilent has clearly left no tool in his production arsenal unused. The battle between man and machine is now ending, and now is the time for the humans' victory. 
"To Dust" illustrates the end of the war with intricate melodic sections and a downtempo, glitched-out vibe. Humanity has won the war, and perhaps gained control over the machines, who have mostly been reduced "to dust." After that, the final track of the journey begins.
"Particles" contains sounds that most likely have never been heard by humans in the (yes, our) real world before. This incredible outro exhibits elements of psytrance and dubstep, with the even the most minute details of the production shining through. 
The voice from the intro asks, "Who am I without you?", and after revealing that the machines were made from "the bits and pieces and the dust of the ones before us," it ultimately seems as though the robots were a result of human consciousness merging with the machines, revisiting the plugged-in human theme of We Are Virtual. What a trip!
To say that Xilent's We Are Dust is completely fascinating in regards to both the production and the storytelling would be a gross understatement. This album has perfectly followed up We Are Virtual and showcased Xilent's uncanny ability to provide lofty and gorgeous melodies that make way for massive bass lines and crushing rhythmic sections. We Are Dust is a delight for listeners, producers, sound engineers, and fans of great storytelling alike. 
The album is out now via Monstercat.
FOLLOW XILENT:
Facebook: facebook.com/Xilent
Twitter: twitter.com/Xilent
Instagram: instagram.com/xilentofficial
SoundCloud: soundcloud.com/xilent
FOLLOW MONSTERCAT:
Facebook: facebook.com/monstercat
Twitter: twitter.com/Monstercat
Instagram: instagram.com/monstercat
SoundCloud: soundcloud.com/monstercat