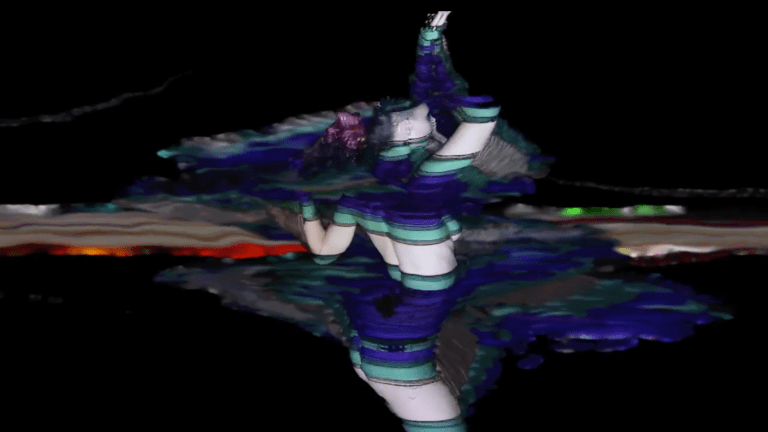 Zebbler Encanti Experience Release NSFW "Trance End" Video via Wakaan
The psychedelic video arrives just before the acclaimed duo kicks off their winter tour on November 15th.
Courtesy of freeform bass outlet Wakaan, Zebbler Encanti Experience (ZEE) released a new video today for their track "Trance End." The NSFW video mixes live action and animation, paralleling the international duo's penchant for the mystical and uncanny.
ZEE consists of Peter "Zebbler" Berdovsky and Ben "Encanti" Cantil, originally from Boston, though both take turns teaching at Berklee School of Music in Valencia, Spain. Berdovsky has toured the U.S. considerably over the years as a VJ, providing his mind-bending vision and visuals on tour for acclaimed acts like Shpongle and EOTO. Cantil, meanwhile, is responsible for the glitch-heavy bass and production. For the past decade, the duo have joined forces to create a one-of-a-kind audiovisual experience.
This latest release from the duo comes in the form of "Trance End," a track from the duo's April EP, End Trance. The video was first debuted at the inaugural, sold-out Wakaan Music Festival, and finds a release today just a few weeks out from the duo's fall tour. The video depicts distorted clips of nude models that are flashed in segmented strobes. Following the track's uptempo build and low, rumbling bass line, the figures are blasted with various colors as their bodies are warped in every direction. Much like the track's name, the video induces listeners into a trance unlike any other.
The video adds further intrigue to Zebbler Encanti Experience's winter tour, which kicks off November 15th in West Chester, Pennsylvania and runs through December 19th at Meow Wolf. Find the full list of dates below.
Follow Zebbler Encanti Experience:
Soundcloud: soundcloud.com/zebblerencantiexperience
Facebook: facebook.com/zebblerencantiexperience
Instagram: instagram.com/zebblerencantiexperience
Twitter: twitter.com/zebbler