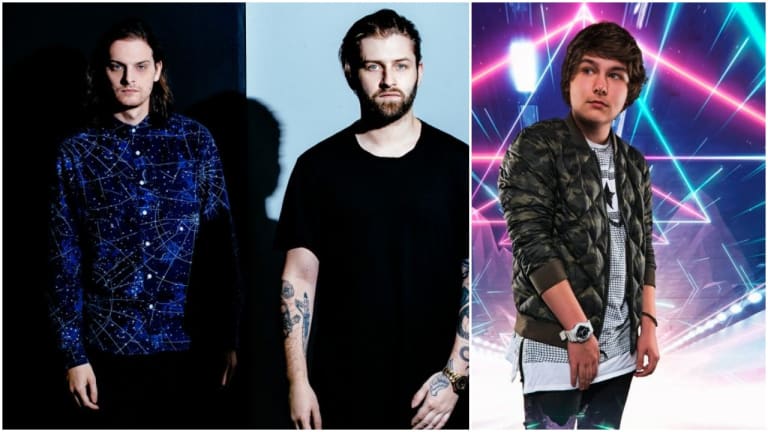 Zeds Dead Collab with Dion Timmer on "Rescue" ft. Delaney Jane
Zeds Dead and Dion Timmer are a match made in dubstep heaven.
As soon as you cue this single up, you may ask yourself how it is that Zeds Dead and Dion Timmer haven't teamed up on a track before now. The two dubstep acts have delivered "Rescue" featuring Delaney Jane, a song that exhibits a seamless blend of both of their signature sounds.
Neither Dion Timmer nor Zeds Dead (real names Dylan "DC" Mamid and Zachary "Hooks" Rapp-Rovan) are strangers to incorporating melody into their styles of dubstep, and both do so without making their songs too cheesy. In the case of "Rescue," their catchy melodies intermingle with Jane's vocal in such a way that the song has plenty of utility on festival main stages and radio airwaves alike.
Zeds Dead have been a fixture of the bass music landscape for a decade, whereas Dion Timmer's rise to fame has been relatively recent. Figureheads like Excision have supported his music, affording him billings on gatherings like Lost Lands Festival and Bass Canyon in recent years.
Stream or download "Rescue" featuring Delaney Jane by Zeds Dead and Dion Timmer across platforms here.
FOLLOW DION TIMMER:
Facebook: facebook.com/diontimmermusic
Twitter: twitter.com/diontimmermusic
Instagram: instagram.com/dion_timmer
SoundCloud: soundcloud.com/diontimmer
FOLLOW ZEDS DEAD:
Facebook: facebook.com/zedsdead
Instagram: instagram.com/zedsdead
Twitter: twitter.com/zedsdead
SoundCloud: soundcloud.com/zedsdead