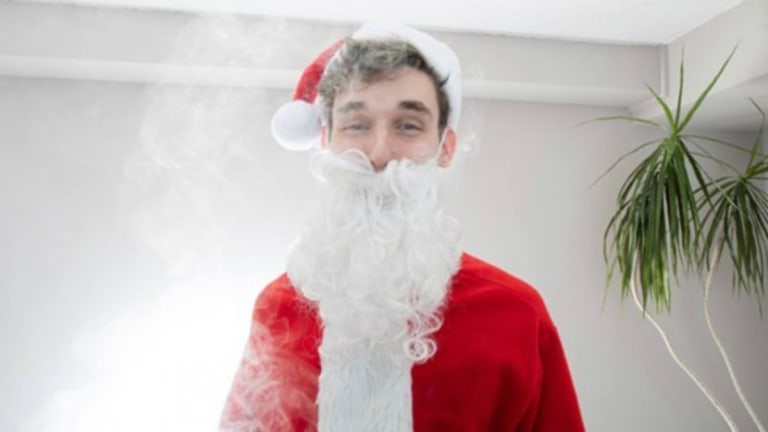 GRiZ Announces Fourth Annual Edition of '12 Days of GRiZMAS' in Detroit
It's that time of the year again! GRiZMAS is almost here - December 5 onwards! Get ready Detroit.
f you're a resident of the Detroit area and a dance music lover, you definitely already know about the magical event that excites us as much (or more?) than Christmas – GRiZMAS!

In its fourth annual edition now, '12 Days of GRiZMAS' has now become an annual Holiday season tradition. Grant Kwiecinski, better known as GRiZ is not just a fabulous musician but also a genuinely great human being and a loyal Detroit native. With 12 days of events leading up to GRiZMAS he looks to give back to charity and the city that raised him to be the man he is.
Music saved his life, but Detroit built him. And now GRiZ is doing all he can to give back to his community by helping to develop a support network for creative kids in a city that thrives with artistic talents. Growing up learning music within this very music scene in Detroit that changed his life, he's looking to continue that and give forward by working working with a philanthropic cause aimed to help kids in the city flourish and hone their talents.
Little Kids Rock, the Charity that GRiZ has chosen to work with,is a national nonprofit dedicated to transforming lives by restoring, expanding, and innovating music education in our schools. With their focus and expertise on inclusive music education, the organization partners with public school districts to build music programs as diverse as the kids being served. In the previous three editions, GRiZMAS celebrations have raised a whooping $80,000 for Little Kids Rock to date and even 100% of this years proceeds from the GRiZMAS events will go straight to them.
12 Days of GRiZMAS will kick off this year on December 5th and offer a series of fundraising activities including bowling, caroling, yoga, an industry panel, a GRiZMACON Bar Tour, and more leading up to the fan favorite GRiZMAS celebration, to be held over two nights at the Detroit Masonic Temple.
The first GRiZMAS show on December 15th will mark the return of the live band, which was debuted on night one of GRiZ's sold out two night run at Red Rocks Amphitheatre in September. keeping that vision alive this year with multiple fan-involved activities throughout the 12 Day celebration.
In addition to ALL of the cool stuff above, this year will also see the first ever GRiZMAS pop-up shop which will be the hub for all things GRiZMAS packed with a limited merch shop and much more with all proceeds again going towards benefitting Little Kids Rock.
Fans who can't make it to the festivities also can head here to donate and support the cause!

And for those lucky enough to be in the area can join in the festivities on the dates and venues below! Here's the full break down:
GRiZMAS CHARITABLE EVENTS SCHEDULE
Dec 5 – GRiZMAS Pop Up Shop Grand Opening
Dec 6 – Caroling on The Q and Campus Martius
Dec 7 – Bowling Night
Dec 8 – Mystery TBD Event
Dec 9 – GRiZMACON Bar Tour
Dec 10 – Yoga @ The Fisher Building Lobby
Dec 11 – Industry Panel @ Assemble Sound
Dec 12 – Muzz-Hannukah @ The Masonic Temple
Dec 13 – Roller Disco Night

CONCERTS
Dec 14 – Night Before GRiZMAS @ Royal Oak Music Theatre
Dec 15 – GRiZ Live Band @ Masonic Temple
Dec 16 – GRiZ @ Masonic Temple