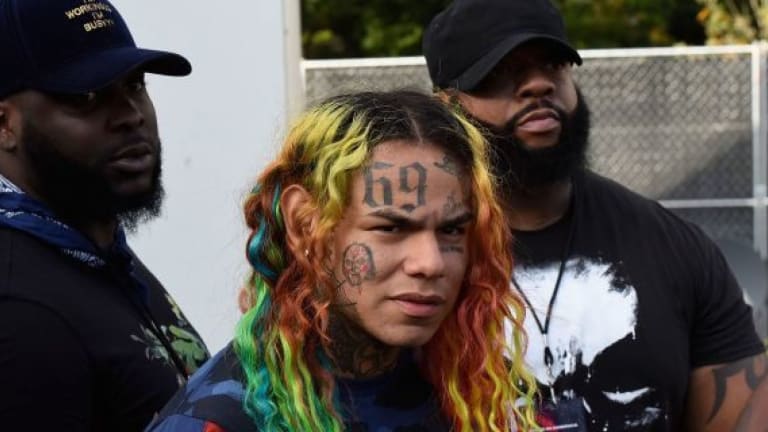 6ix9ine Could Serve Life Sentence if Convicted of All Charges
A Manhattan federal court arraignment clarified the charges faced by 6ix9ine.
In the court proceedings following his arrest on the evening of November 18th, the full implications of the charges faced by Daniel Hernandez A.K.A. 6ix9ine have been revealed to the public. The Brooklyn rapper faces a minimum penalty of 32 years and maximum of life in prison if convicted.
Hernandez and four associates have been indicted on eight separate counts that include offenses like conspiracy to commit murder and armed robbery. Aside from Hernandez, Jamel Jones A.K.A. Mel Murda, Kifano Jordan A.K.A. Shottie, and Jensel Jones A.K.A. Ish have been accused of six of the eight charges. Fuguan Lovick A.K.A. Fu Banga has been accused of the other two.
"Daniel Hernandez is completely innocent of all charges being brought against him," reads a statement made today by Hernandez' attorney, Lance Lazzaro. "An entertainer who portrays a 'gangster image' to promote his music does not make him a member of an enterprise."
Hernandez' upcoming album Dummy Boy had been slated for release this Friday, November 23rd. However, according to DJ Akademiks it has been postponed indefinitely. The album included features by Nicki Minaj and Kanye West.
DJ Akademiks also claims that according to people familiar with the matter, 6ix9ine's lawyer has canceled his bail hearing and he will remain in jail for at least another week. 
H/T: Forbes
FOLLOW 6IX9INE:
Facebook: https://www.facebook.com/Official6ix9ine/
Twitter: https://twitter.com/6ix9ine
Instagram: https://www.instagram.com/6ix9ine/
SoundCloud: https://soundcloud.com/scumgang6ix9ine