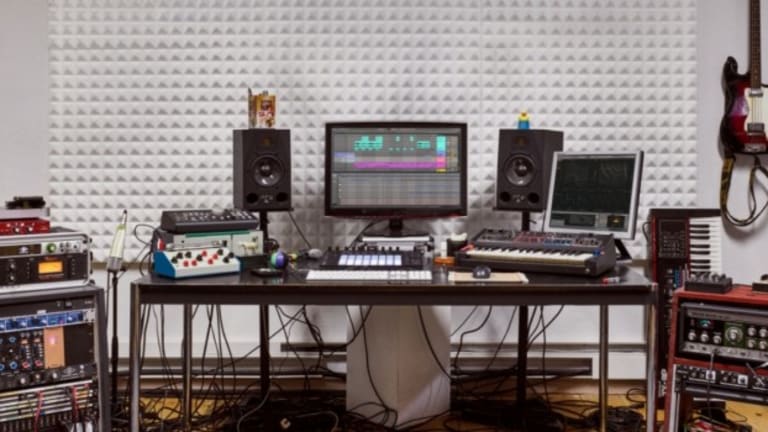 Ableton Shares Everything The New Live 10 Has To Offer
Producers are pumped to get their hands on the new version of Ableton Live!
Let us introduce our non-producer people to what Ableton actually is.
Ableton is a company that has made one of the best Digital Audio Workstation (DAW) that is currently available in the market. Their DAW is named Live. It is one of the most user friendly, easy to learn software and once you get to know its true potential, the possibilities are endless (just like any other daw). Not only is it a producer friendly tool, but you can do your live performances with it too. It's well appreciated Arrangement view is something that sets it apart than any other software out there.
The current available version is the Live 9 & it has served producers for well over 4 years and ever since the news about Live 10 was announced, the producer community has been hyped for what the new version will offer and if it will bring in any new improvements. And well, the day is finally here. Ableton just shared 5 new videos that goes into what the new features are and then they dive more into how to actually use them in your productions. Check out the introductory video below and if this doesn't hype you up, I don't know what will.

Now, let's get into into what's actually new in this version!

First Impressions:
1. Graphics: The UI has been changed to make the new version feel more minimal. It now looks much cleaner and well integrated than before. Also, the themes have been redesigned in such a way that it retains the visibility in most of the environments.
2. New Browser View: The new browser includes folders that helps you manage your favourite Synths, Effects, Drums, Audio Effects & Plugins.
3. Merge Multiple Groups: This definitely is one of the most requested feature and now it's finally here. The ability to merge multiple groups into one master group will add to the creative routing possibilities.
4. Edit Multiple MIDI At Once: Like you can select 2 audio clips and play with their warp mode, volume etc, now in addition to that, you can edit multiple midi at once too. This for sure will add to the workflow.
5. Arrangement View: The arrangement view has also been updated and includes time stretching, nudging, one-key zooming without actually opening the audio clip. This would also help increase your workflow. 
Everything New:
1. New Synth In Town: Ableton has added a new synth to their already vast inventory of synths that includes Analog, Operator, Tension to name a few. The new synth is called "Wavetable" which is essentially a 2 Oscillator synth. Not only does it adds the functionality of the waveforms being visible like in Serum and Ni's Form, it also adds 2 Auto Pan modules in the synth for much precise LFO movements.
2. New Audio Effects: There also are 3 additional audio effects that have been added in this version. These are Echo, Drum Buss (basically a tool to sculpt your drums) & Pedal (includes modules for overdrive, distortion & fuzz guitar pedals. It can be used on various elements to add warmth and tonality)
3. Updated Core Library: There is no doubt that the core library has been updated a little bit with almost every update of Live. But this time, Ableton has added whole lot of new sounds which is definitely exciting for those who like to work with Live's native samples. In addition, with the updated browser everything will be much easier to find.
4. Updated Sound Engine: People have been debating if Logic Pro has better sound engine then Live but Ableton is here to put these arguments to rest. While some argue that Live has inferior sound engine when compared to Logic's, some say that the difference is inaudible. With the new version of Live, Ableton has introduced: Improved Gain Range, Bass Mono feature in Utility, Extended Frequency Slopes in EQ8 and a Split Stereo Pan feature. When combined, these features will definitely add to the quality of your mix.
6. Capture: Now, this have to be one of the best new feature. Imagine you're jamming something but forgot to record it or when you're recording you can't quite recall the idea. Well, with this feature, Live will remember your every idea even if it's not recording. Yes, you read that right. So, if you can't exactly play something back that you just did, Live 10 has got you covered. Watch the video below:
6. New Features in Push: Not only new stuff has been added to the software, but the flagship hardware device i.e Push also gets some new interesting features. A new step sequencer has been added which just adds to the real time playing, Notes in the clip are directly shown on the Push's screen & also Wavetable, EQ8, Compressor, Echo and Drum Buss will be shown in detail on Push. Besides this, there are some more workflow improvements. Check out the videos below and see it for yourself:
Ableton has also made a full comprehensive list of everything that has been added. Be sure to check it out here.

Price & Availability:
So, it is expected to launch in Q1 of 2018. The prices however remains identical to that of Live 9. The download versions for Live 10 will cost:
- €79 /$99/£69 for Live Intro
- €349/$449/£319 GBP for Live Standard and
- €599/$749/£539 for Live Suite.
Also, if you want Live 10 but haven't bought Live yet, Ableton is offering 20% off on Live 9 right now and a free upgrade to Live 10 when it arrives. We are super excited to see how the producer community will use these new features in their productions.
H/T: FACT MAGAZINE