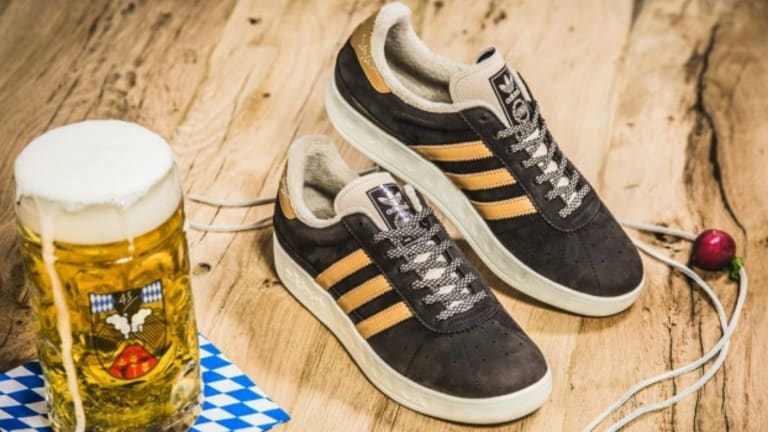 Adidas Introduces Puke and Beer Repellant Sneakers for München Oktoberfest
These brilliant sneakers by Adidas are "Originals" and an absolute game changer!
Yes, it isn't October yet. But yes, it's already time for Oktoberfest in a couple of weeks! And if you're lucky enough to be making it to the original Oktoberfest in Germany and have a pair of these brand new "Oktoberfest" Adidas on, you're definitely going to get some jealous glances! Neighbors envy, owners pride right there!
The first Oktoberfest was held in the year 1810 in honor of the Bavarian crown Prince Ludwig's marriage. The festivities began on October 12 and ended on October 17th with a horse race. In the following years, the celebrations were repeated and, later, the festival was prolonged and moved forward into September. By moving the festivities up, it allowed for better weather conditions. Historically, the last Oktoberfest weekend was in October and this tradition continues into present times.
This year the festival will be taking place in Munich from September 16 to October 3 2017. And while beer lovers from all over the world make the trip to this dream festival, it is undoubtedly a shoe lovers nightmare! In a best case scenario, your shoes will have had their fair share of beer spills. And in a more realistic but not ideal world , you'll have your shoes coated in some beer and a fellow revellers puke after they've had a beer too many. And just like this isn't rare on alcohol heavy festivals like St. Patrick's Day, Oktoberfest is needless to say no different.
Adidas, a German company itself, is bound to know some of the unpleasantries someone attending their country's most famous annual traditions may comes across. Having the right shoes being one of them.

As the Adidas website describes these sneakers, crafted in Germany, these limited-edition München shoes represent the true spirit of Oktoberfest and sport heritage. Upon first look, the exterior of the shoes are brown leather to go with the festive lederhosen attire and hints of gold on the outside with a red and white micro checked interior detailing that matches the table cloths at the festival! Talk about to attention to detail much? Also, right above the signature Adidas stripes, the word "Prost" meaning cheers in German is embroidered in gold. Add to this a little ethnic embroidery to match that lederhosen on the back and you have the ideal Oktoberfest sneaker.
But we aren't done just yet, the leather sneakers are coated with an exclusive hydrophobic substance called the "DPBR" coating which apparently stands for Durable Puke and Beer Repellent. Which true to its abbreviation, means not only does the look of the shoes fit the part, they are also THE most feasible pair to have on if you don't want to leave with drenched feet. So in addition to being an apt festival accessory, they are your partner in crime too! Each pair also comes with a custom beer mug, for a spill test before the big day probably?
So well, grab these babies from Adidas in the UK or online and get set for Oktoberfest! Prost!
H/T: Dancing Astronaut