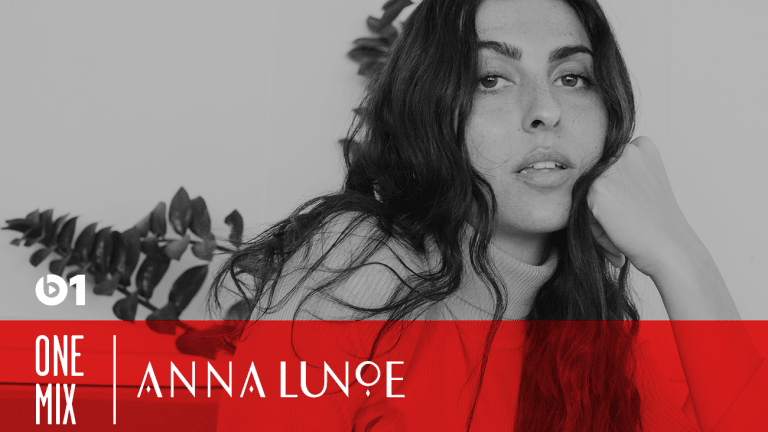 Anna Lunoe Hosts Beats 1 One Mix To Play Her Tomorrowland Set
She also mentioned her guilty pleasure record is Pon De Floor, and that she has never played Fortnite.
Anna Lunoe is one of the most badass women in electronic music.
A singer-songwriter, producer, DJ and radio host, the Sydney native is revered for her eclectic sonic palette and candid passion for music. Lunoe's collaborated with artists like Flume and Touch Sensitive, toured with M.I.A., Disclosure, The Weeknd, Calvin Harris, even Daft Punk, and worked with electronic music favorites like Diplo, Kaskade, What So Not and Skrillex.
She was the first female to play a solo main stage set at Electric Daisy Carnival's flagship Las Vegas festival back in 2016, as well as the first female to curate CDs for Ministry of Sound in Australia. Also, she's a fricken' mom. The Australian maverick publicly announced her pregnancy before her Coachella set last year, putting on a thrilling midday performance, singing live for the first time to a packed out Sahara Tent with a surprise on-stage visit from Skrillex.
Fun fact, she has also created runway music for massive brands like Chanel, Prada, Fendi and Louis Vuitton.
Often compared to Pete Tong, Lunoe's a hit tastemaker too, purveying fresh tunes through her popular Beats 1 radio show and HYPERHOUSE events. Recently, she moved on from hosting HYPERHOUSE to Dance Chart at Beats 1. Though this week she'll be heading to Beats 1's One Mix to play out her recent Tomorrowland set. This year's edition of the world-renowned festival marked Lunoe's first ever European festival performance, and she brought the heat with brand new tunes from DJ Snake, GTA, Fisher, Redlight, and of course, herself.
Tune in here.
Air Dates: Friday 3rd August 2018 - 21:00 LA / 00:00 NY / 05:00 UK
Mix aside, the Australian sensation also shared some interesting musical insights. Turns out, most DJs are introverted studio nerds just faking it, people have been losing their mind to Fisher's hot track "Losing It," and Pon De Floor is her guilty pleasure record. Also, Lunoe's never played Fortnite.
First show experience?
I was super nervous even though it was just in a side bar at a club. I was completely over prepared with notes on my cd's but I played really well and a quite well known blog at the time wrote about my set saying "os mutantes into the yeah yeah yeah's why can't all dj sets be this good" lol
First time you brought your mom to one of your shows?
The first time was when I was djing with a band at a pretty big Australian festival and a speaker stack fell down next to me so she was pretty unsure about this whole DJ biz! She didn't see me play for another ten years.. she finally came to a festival I played just a few months ago in San Diego and I bought her out onstage and she loved it.
The artist who inspired you to become a musician:
No one specific. I have honestly wanted to be a part of music from my earliest memory.
Go-to places for new music?
I go through the hundreds of demos I am sent a week, plus mixes, trawl online music media, twitter, harass my friends, watch other DJs DJ.. everywhere.
Guilty pleasure record?
Pon De Floor till death.
Desert-island dance record?
Why - Carly Simon
Dream B2B partner?
Nina Las Vegas
Favorite BPM?
Most of my set will sit between 126- 132 but everyone knows I love a 100 or 150 switch up.
Piece of gear you always need on the road?
MacBook
All-time favorite festival?
Holy Ship
Biggest misconception about dance music?
That DJs are cool party people. Most are introverted studio nerds just faking it.
How often do you get out and have fun, and where do you go:
Not super often cos I have a kid and a packed touring schedule on the weekends but I love to eat good food with my friends, hang w my baby girl in the kiddy pool in our backyard, some of my happiest times are backstage w my DJ friends stealing drinks and running around festivals causing trouble. I love nature too, hiking and swimming in the sea, horse riding. I'm pretty wholesome. And I know most people are wondering, no, I have never played Fortnite.
Industry prediction for the next year?
I would tell you if I knew, but I don't even know what I'm having for dinner tonight..
Best piece of advice for new producers?
Bring something different to the table, work twice as hard as you ever have before and don't be a dick.
What is one of the unique experiences you've had backstage?
A million wonderful moments meeting my idols, a million boring times hiding under the tarp in the rain on no sleep, its all a blur.
A unique travel experience you've had?
Playing in Belgium for Tomorrowland was sick. I had never played a European Festival before so this was really special for me. I ate heaps of waffles.
What's your favorite throwback track?
Neighbourhood – Zed Bias
What's one track that fans always lose their mind to?
Right now, Losing it – Fisher. (Fitting, no?)
What was the first album you ever bought?
Probably hideous compilation cd's.. I was the youngest of 4 kids though so there was already heaps of great music in the house.
Name one remix that you think is better than the original?
I can't do this without casting mad shade at the original artist, what kinda beef are you trying to start up?
What song would you want (god forbid) played at your funeral?
Circle Of Life from the Lion King soundtrack. Everyone sings it to my open casket. Roll credits.