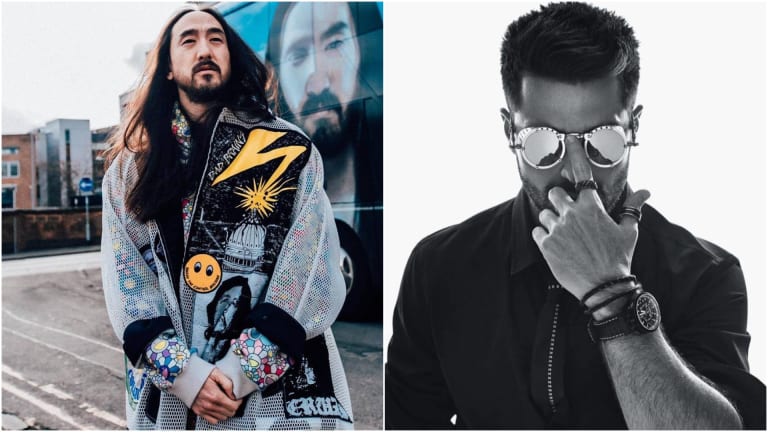 Steve Aoki and Alok Release Trippy Music Video for "Do It Again"
It even has a six-armed, four-eared rabbit alien monster.
Global EDM superstar Steve Aoki and Brazilian wunderkind Alok recently joined forces to recreate The Chemical Brothers' iconic track, "Do It Again." The music video for the single was just released, and it is a trip. 
In an animation style somewhat reminiscent of some of Gorillaz' media, Aoki and Alok are cartoon-ized into cel-shaded versions of themselves. An alien rabbit monster(?) reverse-Poltergeists the duo into their TV, where they play in a half-real, half-cartoon nightclub to a raging crowd.
Meanwhile, the alien rabbit raids their fridge for ingredients and bakes some hellish monster cakes, which it appears to eat alive. After that, it gets even stranger, and animal versions of Aoki and Alok appear to eat a smaller version of the rabbit monster alive as... revenge? Why did they turn into animals? Why did the rabbit get small? Did they time travel via the quantum realm? Were they just really high? Who knows? This video is weird.
Steve Aoki and Alok's single and music video "Do It Again" are out now on Ultra Music. 
Follow Steve Aoki:
Facebook: facebook.com/steveaoki
Twitter: twitter.com/steveaoki
Instagram: instagram.com/steveaoki
SoundCloud: soundcloud.com/steveaoki
Follow Alok:
Facebook: facebook.com/livealok
Twitter: twitter.com/alokoficial
Instagram: instagram.com/alok
SoundCloud: soundcloud.com/livealok