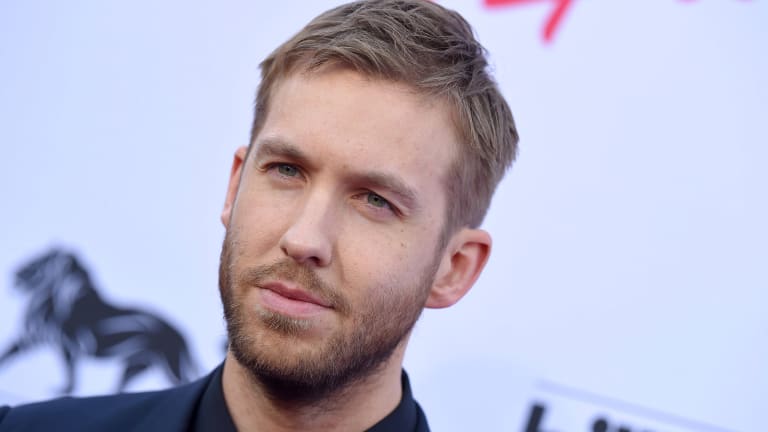 Apashe Calls Out Calvin Harris for Copycatting his Music Video
"I know you're getting old and unoriginal, but did you have to copy my music video?!"
A week ago Calvin Harris shared the music video for his Rag'n'Bone Man collaboration, "Giant," and today another artist has called his originality into question. Brussels-born, Montreal-based producer Apashe asserts that the video is too similar to that of his 2018 single "Majesty" featuring Wasiu to be a coincidence.
Wasiu can be seen wearing a red tracksuit on horseback for most of the "Majesty" video. At about 1:45 into the visual accompaniment for "Giant," several of the characters can be seen in the same regalia.
"I know you're getting old and unoriginal, but did you have to copy my music video," reads a tweet volleyed by Apashe (real name John De Buck). "That's just fucking lame."
Calvin Harris (real name Adam Wiles) defended himself by claiming that his own music video was a reference to the horse-riding teenagers of Dublin, Ireland. "Check the ref from 2014 and stop insulting legends [sic]," he fired back.
"Regardless of any inspiration, the color schemes, camera angles/movement are all similar," De Buck pressed. "Story is the same as mine (minus the humor), the nature scenery is identical AND different from the source you linked which has horses in towns."
Wiles responded, "Well you know it's nice that we like the same things, a happy coincidence." He has not made further comment on the matter.
At the time of writing, Apashe has made no statements suggesting that he intends to take further action against Calvin Harris for the similarities between the music videos for "Majesty" and "Giant."
FOLLOW CALVIN HARRIS:
Facebook: https://www.facebook.com/pg/calvinharris/
Twitter: https://twitter.com/CalvinHarris
Instagram: https://www.instagram.com/calvinharris/
SoundCloud: https://soundcloud.com/calvinharris
Follow Apashe:
Facebook: facebook.com/Apashe.Official
Twitter: twitter.com/Apashe_Music
Instagram: instagram.com/apashe
SoundCloud: soundcloud.com/lindien