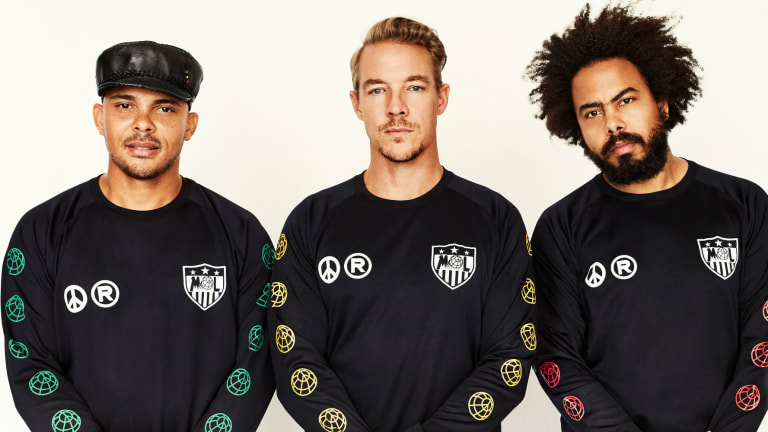 Ape Drums Joins Major Lazer to Replace Departing Jillionaire
Major Lazer are shaking things up.
Jillionaire (real name Christopher Leacock) of the Major Lazer trio has reportedly parted ways with the group ahead of its final album. Diplo and Walshy Fire have moved to recruit collaborator Ape Drums who will begin touring with the group and assisting in the production of their fourth album.
Jillionaire's departure was first rumored with his absence at Major Lazer's Governor's Ball performance which took place last weekend. Prior to that, many had been commenting Jillionaire was generally not mentioned as much on the group's social channels. 
With Major Lazer's last album on the way, it seems like a strange time for Jillionaire to part ways with the group. However, in a comment to Dancing Astronaut, Diplo didn't indicate there was conflict among the group. 
"Jillionaire is always part of the team," he said. "Ape Drums is helping with production on some tracks (he's done a few songs with us before) so he is going to tour with us as well…it's like John Mayer joining the Grateful Dead." 
Even if it is the case that Jillionaire is departing permanently, it doesn't seem that Major Lazer's pace will be slowing down. The group has a full summer tour ahead and more information on their album, Lazerism, is expected to be revealed soon.
Jillionaire first joined Major Lazer in 2011. 
FOLLOW MAJOR LAZER:
Facebook: facebook.com/majorlazer
Twitter: twitter.com/MAJORLAZER
Instagram: twitter.com/MAJORLAZER
SoundCloud: soundcloud.com/majorlazer