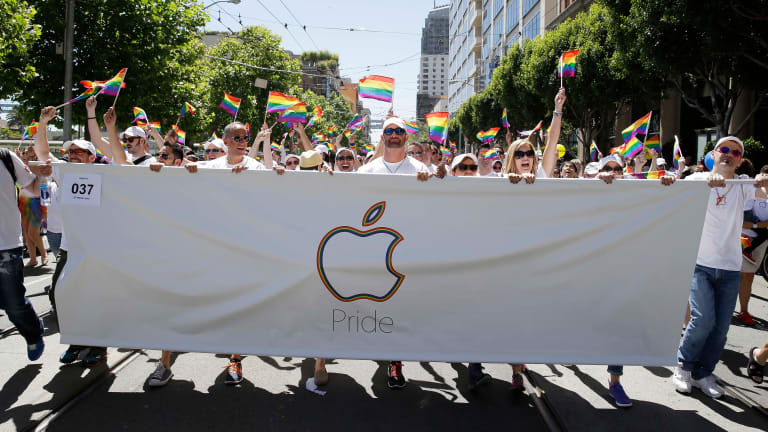 Apple Music Celebrates Pride With 16 Exclusive Mixes From DJs in the LGBTQ+ Community
Apple Music has shared 16 exclusive DJ mixes from talented LGBTQ+ artists such as KANDY, Andrew Bayer, Kittens, Ducky and more as part of their ongoing celebration of Pride.
As part of 2019's month-long Pride celebration, Apple Music has put together an extensive list of exclusive DJ mixes from an array of talented artist advocates of the LGBTQ+ community. With participants representing all walks of life, DJs and producers such as Andrew Bayer, Kandy, B!tch Be Cool, and Baby Blue come together in celebration of the diversity of our community, and in honor of the spirit of Pride.
Robby Engle, the dance music programmer/editor at Apple Music, played a crucial role in spearheading the curation and assembly of this excellent collection of mixes. He said:
"As part of Apple Music's monthlong Pride celebration we wanted to do something special with LGBTQ+ DJs as they've been an integral part of shaping dance music's culture and sound since the beginning. Over the past year or so, we've prioritized DJ mixes and representing dance culture as authentically as possible at Apple Music, so this was a perfect opportunity to invite some of our favorite artists to create a DJ mix to celebrate Pride. We're proud to have worked with 17 artists of different nationalities, gender identities, and sexualities who made DJ Mixes in the spirit of Pride. All of these mixes are different flavors of dance music, and even some hip-hop, that show the true diversity of our community. This work couldn't have been done without our label partners Dubset and Anjunabeats, as well as queer parties Rhonda INTL and POOF DOOF who helped in curating some of these mixes."
As pointed out by Loren Granich, co-founder and musical director for Rhonda INTL, the dance music community at large is known for diversity, acceptance, and inclusivity, and even has it's origins in queer culture. "Rhonda INTL was founded on the principle that club culture is queer culture," she said, "and we're honored to work with so many brilliant international artists from the queer community who embody this ethos while continuing to push musical and sexual boundaries."
New York City-based DJ and Producer KANDY, who came out publicly in early 2018, has also been a major advocate for the LGBTQ+ community. As part of his official "coming out" to the dance music community, his music video for the track "Feelin' KNT" on Diplo's Mad Decent featured a number of drag queens, many of whom KANDY himself befriended throughout his tenure in New York City. He said:
"'Feelin' KNT' is my first release since coming out to my family. This release means more to me than anything I've released in the past because it is the first time I've been able to be my most authentic self. This has given me the confidence I've been searching for such a long time. It's extremely important to me to show the dance music community that it is okay to be who you are and to not let anyone or anything keep you from expressing your true self." 
See the complete list of mixes below and check them out on Apple Music.
Glovibes - Bonanza Selection Part 1
J. Worra - Pride 2019 Mixtape
B!tch Be Cool - Fever
Baby Blue - Baby Blue's Astral Lovers Mix
Kitty Glitter - Glitter Pride
Sveta - A Love Letter From Sydney To New York - World Pride
Argonaut - Argonaut's World Pride Paradiso
Kittens - No Shame
Sasha Marie - soft high.
Ducky - I Can't Think Straight
Newbody - Pride: A Deeper Love, Mixed for Rhonda INTL
Dopplegang - Pride: A Deeper Love, Mixed for Rhonda INTPatrick Mason - Pride: A Deeper Love, Mixed for Rhonda INTL
Lauren Flax - Pride: A Deeper Love, Mixed for Rhonda INTL
KANDY - LOUD AND PROUD
Andrew Bayer - Pride 2019 Mix