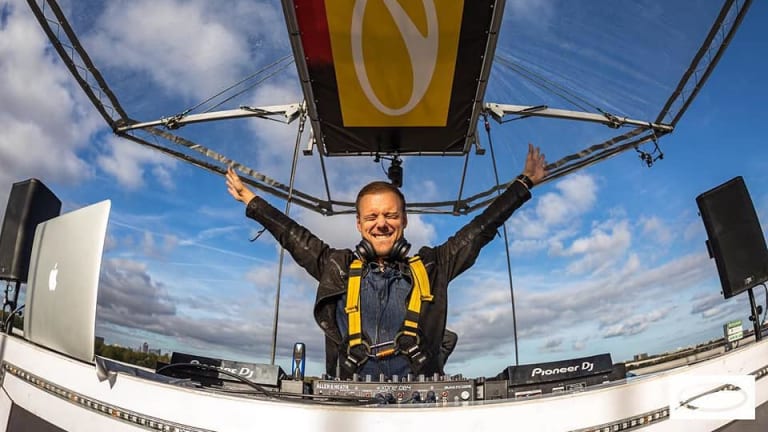 Watch Armin van Buuren Drops the New ASOT 900 Anthem from 200 Feet in the Air
Armin van Buuren also announced that Above & Beyond will join him at the next ASOT festival in the Netherlands.
There is so much going on during Amsterdam Dance Event that grabbing people's attention can prove quite challenging. It is safe to say that event producer ALDA Events managed to do so, however. The resident organizer of Armin van Buuren's A State of Trance events introduced the theme for ASOT 900, "Lifting You Higher' by literally lifting the Dutch trance icon and his 20-person audience too high for comfort. 
To the sound of Armin's new ASOT 900 anthem, a crane lifted a miniature stage with strapped-in music lovers up nearly 200 feet off the ground. Once they reached altitude, he announced that no other than Above & Beyond will be joining him for the show in Utrecht next year. With that, the Anjunabeats founders will finally make a comeback to the Dutch event brand since their last performance at ASOT 500 in Den Bosch.
The yearly event in Utrecht will take place in the Jaarbeurs on the February 23rd, 2019. Two more shows in Europe have been announced as well. One in Madrid takes place on March 3rd, and one in Kiev on the June 23rd. Since ASOT has not organized multiple events on the same continent in previous years, the announcement might indicate there are many other dates to come. Where do you want Armin to bring the ASOT series?
Until the celebrations start next year, enjoy the brand-new ASOT 900 anthem and the video of this scary but amazing performance. Also, make sure to check out our Instagram to see what it was like to be all the way up there. 
Follow Armin van Buuren:
Facebook: https://www.facebook.com/arminvanbuuren/
Twitter: https://twitter.com/arminvanbuuren
Instagram: https://www.instagram.com/arminvanbuuren/
SoundCloud: https://soundcloud.com/arminvanbuuren