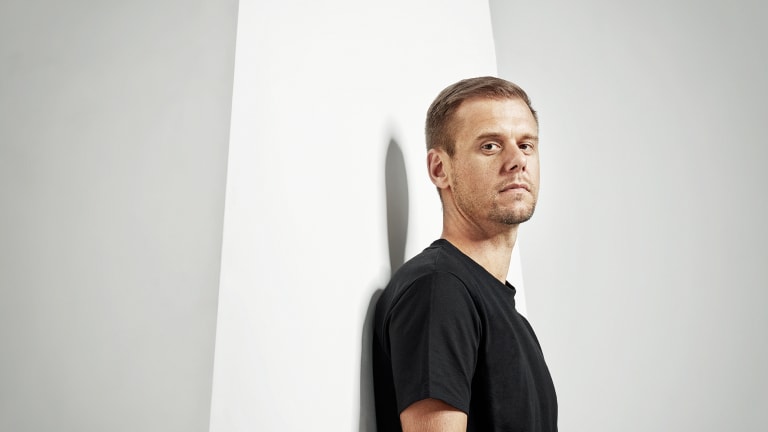 Armin van Buuren Opens Up About Mental Health Struggles
He sat down on the Dutch talk show Jinek to speak on Balance, his legacy, and the darker side of the EDM industry.
More and more artists have come forward to discuss the heavy weight that fame and touring have on ones' mental health. The latest to do so is Armin van Buuren. While on tour promoting his new album Balance, set for release October 25th, 2019, the five-time DJ Mag #1 DJ in the world sat down with the Dutch talk show Jinek. His interview shined a light on the good and bad he's faced over his 20-year journey to legend status. 
When looking at the influence that electronic music has had on popular culture today, it's easy to forget that at one time this branch of genres was only found on the outskirts. The shift from counterculture to the mainstream has been immense over the years and is something that does not go unnoticed by van Buuren. 
Even after years of playing some of the world's biggest festivals, it wasn't until recently that one of his tracks reached #1 in the charts of his home country of the Netherlands. After he joined forces with one of the most popular Dutch singers, Marco Borsato on "Hoe het danst," he was able to reach this coveted spot. When he was asked if that was still something emotional for him, he answered:
"Yes, of course. At the end I became a top 40 DJ. I was against that in the beginning, but secretly is of course cool to have that place".
"At the beginning, dance music was counter current. In the '80s you had all the Madonnas and Michael Jacksons of this world, and then house came and that was an anti-reaction, so we were completely averse to everything that was top 40 and things like that. But nowadays you can also see that in the top 40 there is almost no song without a dance beat behind, so it is completely reversed, you could say."
The thing about electronic music is that many of the fans are inherently purists. When artists like van Buuren switch up their sound and start appealing to a wider audience, the negativity started pouring in. Trolls take to the internet to mark them as "sell-outs."
He explained:
"I think I have changed over the years. I am still doing a lot of underground things, like the recent 'Gaia' album, but I am increasingly developing myself and spreading my wings"
"If you would have told me five years ago that I would score a number 1 hit with Marco Borsato, I would probably have laughed in your face, because it could be considered too commercial. And now I just notice that that is actually the fuel to keep doing what I do. I mean, I've been doing this thing for 20 years and I think it's great to play and travel all over the world, but you have to be very careful that producing and making music doesn't become just an easy thing, and do the same over and over".
Throughout the year's van Buuren has faced these issues, but his ability to reinvent himself and keep up with the times is also why he continues to be one of the most sought-after DJs in the world. However, these criticisms do not go unnoticed. His new album Balance is the perfect example of his current outlook on life. The album begins with a quote from his mother stating "Every day you wake up a little more." To van Buuren this means focusing on what you deem is most important in life. 
"Yes, I still want to please every fan. Every fan is important to me. I can't stand it when one fan says he didn't like it at all. Somewhere it is also good because that also triggers you to get better and there is always some truth in it".
"I suffered a lot from it. In 2010, I was the number 1 in the world, but the most unhappy person on earth."
"You are just as good as your last show; you are just as good as your last single, and I started producing only for those few fans who were critical. That felt like a straitjacket, but since 'This is what it feels like,' I actually got rid of that, and I am still very loyal to my fans, and the new album also has a bit of the old Armin sound. I also like that sound and I still embrace that, but I noticed that I have to take those creative steps to keep developing myself."
Recently the producer took his fans on a journey behind the scenes into his life with his wife Erika. The two now have a child together. In the six-episode documentary Mr. Perfect, van Buuren opened up more about how difficult balancing family and his career has been on his mental health. 
"This is a daily discussion. It may look all shiny for the outside world, but we are daily on top of that agenda and then there is the temptation because then you have to say yes or no to a very large festival. If you go you get offered a huge bag of money and a show for 40,000 people, but yes, your son must go to football. You have to make those kinds of weird considerations."
For some the question of who to put first in this situation would be simple - family is always first. But for artists, it's a completely different game. van Buuren described his understanding of this as some kind of addiction:
"There is a book written about that by Ian Robertson, The Winner Effect. It is exactly about that. The kick that you get from standing on stage, from the attention, from making television… that kick that you get… he compared the endorphins that are then released in your brain to a drug. In fact, under the influence of that drug your brain changes, according to his theory, and he has proven all that scientifically. That book has become important to me. I now understand how that works, that's why Mick Jagger is still onstage after a heart operation."
Since the tragic passing of Avicii left a gaping hole in the music industry, the dark side of the performance lifestyle has become extremely apparent. Traveling, partying, and lack of sleep all have a devastating effect on ones' mental and physical health. With more artists like van Buuren going on the record about their struggles, the conversation begins on how to help these artists before it is too late. 
H/T: We Rave You
FOLLOW ARMIN VAN BUUREN:
Facebook: facebook.com/arminvanbuuren
Twitter: twitter.com/arminvanbuuren
Instagram: instagram.com/arminvanbuuren
SoundCloud: soundcloud.com/arminvanbuuren